Would you play a first person shooter on Facebook?  How about a large, real time strategy game akin to World of Warcraft?  A new study suggests that the market for such game types may increase fivefold by the year 2013.
A report released by Social Times Pro surveyed game developers in the space of hardcore gaming, and they found that there is indeed an interest in these type of games on Facebook.  For clarification, hardcore games are defined as those games that attract traditional gamers, whether they are of the PC or console variety.  They are the opposite of casual games, such as Farmville or Cityville.
According to AllFacebook, "The total current market, including strategy games from Kabam (Kings of Camelot, Dragons of Atlantis) and Casual Collective (such as Backyard Monsters and the upcoming Battle Pirates) represents about 20 million Facebook gamers. Two years from now, however, that total might become 100 million."
One of the purveyors of hardcore social games, Casual Collective, has this to say about the style on its website:
Sick of social games filled with monotonous clicking and cutesy graphics? Forget that, it's time to blow stuff up! Casual Collective is dedicated to making fun, action packed games that we'd play even if we didn't work here.  By promoting a competition among our user base, we push players to develop new and creative tactics to win.  We strive to deliver exciting, groundbreaking titles that are easy to play, but hard to master.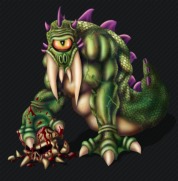 When speaking of the target audience, Casual Collective CEO Will Harbin said that they "need to make  games they're not embarrassed to play."  The company is pushing male dominated games, and expects the number of such games to rise dramatically in the next few years, possibly to 30% of the market.  They might want to think about women, as Zynga's Manny said that 40-year-old moms "are the new hardcore gamer" at SXSW.  I believe the two companies have differing views on the definition of "hardcore gaming."
Some of you might say, "hey, with the amount of time I spend finding friends to water my crops on Farmville, it's a hardcore game to me!"  And you wouldn't be wrong.  But these types of hardcore games are more skill oriented games that appeal to Xbox 360 and PS3 users.
How long until huge names in the gaming world like Activision and Bethesda began to dip their toes in the world of hardcore social gaming?  There sure could be a good amount of money in it, especially if you consider the fact that traditional hardcore gamers can't be at home on their consoles at all times.
Hardcore social games aren't about to dethrone casual social games anytime soon, however.  Casual Collective's Backyard Monsters has around 4 million users compared to Zynga's Cityville with 98 million, according to the report.