Have you started selling your products or services on Facebook and started to explore the realms of F-commerce?
It's great to see a number of organisations here in Ireland doing so, and over the forthcoming months I hope we will learn how this is working for the companies involved. It's never been easier to implement a store front on Facebook as I have written about previously.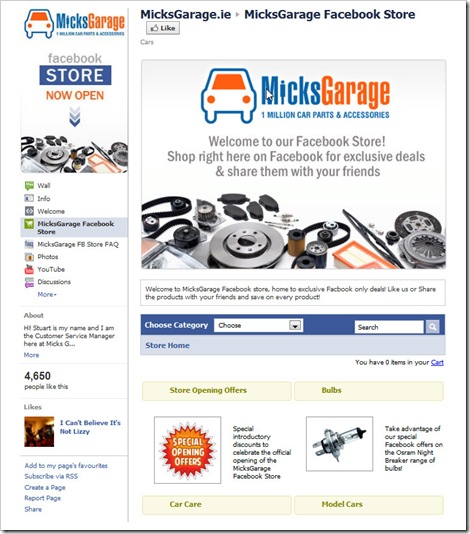 Today Micks Garage, an online retailer of car parts and accessories selling over 1 million products to customers across Europe, mentioned to me that they have introduced a Facebook Store so I took a quick look and here are five things that Micks Garage have implemented on Facebook that are worthy of note to model as you venture into F-commerce:
1. Have an attractive image for your store and give people a reason to want to explore it
2. Make use of your profile photo where you can highlight you have a new store in place
3. Add a customised tab on your Facebook Page covering frequently asked questions you may get from your customers about shopping on Facebook
4. Incentivise your Facebook Fans to purchase from your Facebook store with an exclusive offer
5. Mention your Facebook Store in a status update as most fans will not return to your Facebook Page once they have become a Fan and will access your updates from their Facebook News Feed – you could schedule updates as part of your content plan covering exclusive offers that you change during the course of the month.
Mick's Garage have had a positive response to their Facebook Store implementation from their Fans however there has been some feedback that they would like a wider range.
If you are having to upload all your products to your Facebook Store because of using a low cost Facebook applications rather than integrating your full ecommerce shop, it is going to be time consuming. Therefore it does make sense to make the items that you sell a restricted range relevant for your Facebook Fans. You could of course ask for their input with a short poll or online survey on your Facebook Page to assess what they would like you to have available in your Facebook Store.
Here are four other ideas I recommend as you launch your Facebook Store:
1. Test the Facebook Store out yourself to make sure that you know that the process works smoothly before you launch the store
2. Consider using Facebook Ads to build awareness of your Facebook Store – you could consider using Sponsored Stories and even target the Ad to Fans of Your Facebook Page who will already be pre-disposed to you as a business and what you offer
3. Mention the launch of your Facebook Store on your website, your email footer, your voicemail, your business cards, in your ezine, in fact across all media types if it's relevant to your community
4. Encourage people who purchase through your Facebook Store to leave a recommendation or feedback about the experience – as we know we trust recommendations online from people we know and some 70% of us across the globe trust consumer opinions posted online.
It doesn't matter whether someone makes a purchase for the fist time on your ecommerce store on your website or your Facebook Store – that first purchase is exciting when you hear the kaching! But don't forget that you need to continue to review the effectiveness of your F-commerce plan and adapt it to reflect the feedback from your Fans and your experience.
What other suggestions do you have for people just starting to introduce a Facebook Store and looking to benefit from social commerce? What other examples of Facebook Stores have you seen and recommend we check out?
Originally published at Biz Growth News