Nearly a quarter (23.8%) of mobile users across the five largest European mobile markets (UK, France, Germany, Italy and Spain) listened to music on their mobile handsets during the first quarter of this year, according to a new report from comScore.
The 54 million total music users in the EU5 countries represent a 10 percent increase in the past year.
Spain led the way with 30 percent of mobile users listening to music from their handsets followed by Germany with 25.8 percent. The U.K. falls slightly behind the average in the EU5 with 22.6 percent penetration of mobile users. Listening to music on mobile phones was least popular in France and Italy, with 21 percent of both markets engaged in this activity. The U.S., in contrast, lags behind all EU5 countries with only 13.2 percent of the mobile population using phones to listen to music.

Germany led in all EU5 countries in downloading music directly to mobile handsets with more than 1 million mobile music downloaders in March, while also having the fastest growth rate at 102 percent. Italy ranked as the second fastest growing market (up 92 percent) followed by France (up 50 percent). Growth in the EU5 countries significantly outpaced the U.S., which grew just 10 percent to 4 million users.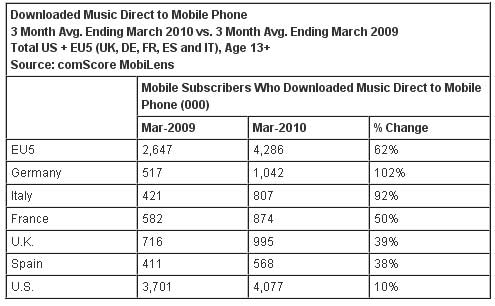 "Despite rapid growth in mobile music downloaders in Europe, the total addressable market in the EU5 is still quite small. However we see a significant untapped advertising opportunity for music publishers and promoters. People who listen to music on their phones are more likely to browse the Internet and almost half own smartphones," says Alistair Hill, senior analyst at comScore.
"The high penetration of smartphones and likelihood to browse shows how ideal this audience is for targeted mobile advertising. The mobile channel offers an opportunity to get in front of consumers at one of their primary access points for music consumption."