Microsoft Windows users in Europe who have Internet Explorer as their default browser are now being offered a variety of choices.
Windows users in Europe will now see a browser "Choice Screen," designed to give them an effective and unbiased choice between their default and competing web browsers.
The European Commission said it welcomes Microsoft's roll-out of web browser choice. The Commission says the move will ensure competition and allow consumers to benefit from technical developments and innovation both on the web browser market and other related markets, such as web-based applications.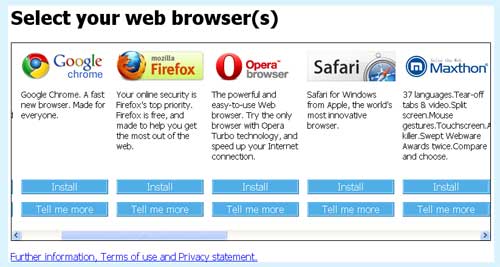 "Web browsers are the gateway to the internet. Giving consumers the possibility to switch or try a browser other than that included in Windows will bring more competition and innovation in this important area to the benefit of European internet users," said Joaquin Almunia, Competition Commissioner.
"More competition between web browsers should also boost the use of open web standards which is critical for the further development of an open internet."
Starting today users will be able to choose between eleven additional browsers, including Apple Safari, Google Chrome, Mozilla Firefox and Opera which will be prominently displayed alongside Internet Exloper. If usrs scroll sideways they will be able to see Avant Browser, Flock, Green Browser, K-Meleon, Maxthon, Sleipnir and Slim Browser.
The European Commission says the browser "Choice Screen" will be displayed on over 100 million PCs between now and mid-May.