eBay announced new browsing modules for shoppers, leverage its structured data better and help users surface listings with savings, best-selling products, etc. The modules include "shop by brand" options and other ways to look at category pages without using keyword searches.
"Many users want to click to browse through items that they are interested in rather than rely on keyword searches," said Dominique Bouchon, eBay's Director of Search Front-End Product Management. "If we only surface a long list of listings, we miss the opportunity to surface the most interesting products and listings. We now have an algorithm that can instantly and intelligently surface them to our users."
A new "save on" module is populated with best-priced listings via an algorithm that leverages the structured data to instantly identify listings where the price is lower than trending prices.
A "best selling" module surfaces relevant products rather than just listings. It can take a product category, such as digital cameras or guitars and surface the most popular models.
"Notably, the 'Shop by' guidance module at the top of many of our new results pages offer a 'guided tour' type of experience," eBay says. "It helps navigate our very large selection of items by highlighting the key aspects we've learned that most people use to drill down from tens of thousands of results to the most relevant results."
The company says one goal of the modules is to better serve users coming to eBay from Google results. The new experience will provide these visitors with better guidance on products.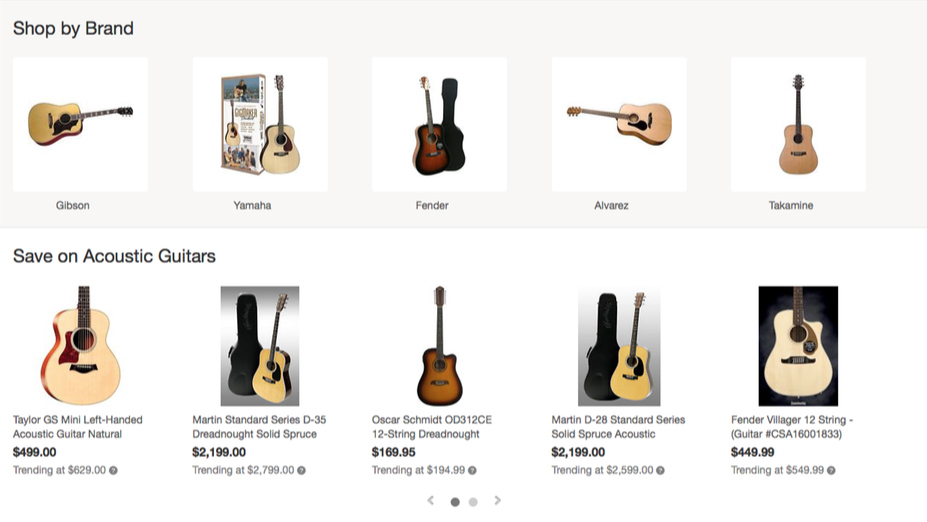 The company says it has more browse module and search news in the pipeline for the coming months, so stay tuned for that.
Earlier this week, eBay made improvements for users searching for product identifiers. Last week, it revealed its big Spring Seller Update, which has a lot of changes for sellers.