eBay has reported its financial results for the fourth quarter, and with revenue for the quarter at $2.4 billion, up 16% from the same period in 2008. That includes revenue of $112.0 million from Skype for the period that eBay fully owned it. Excluding Skype from the fourth quarter of 2008 and the fourth quarter of 2009, revenue growth would have been 19%.
eBay says the year-over-year increase was due primarily to excellent growth in PayPal and StubHub, as well as improvement in growth rates in the core eBay business and a positive impact from foreign currency movements.
The company recorded net income on a GAAP basis of $1.4 billion or $1.02 per diluted share, and non-GAAP net income of $585.8 million or $0.44 per diluted share for the fourth quarter of 2009.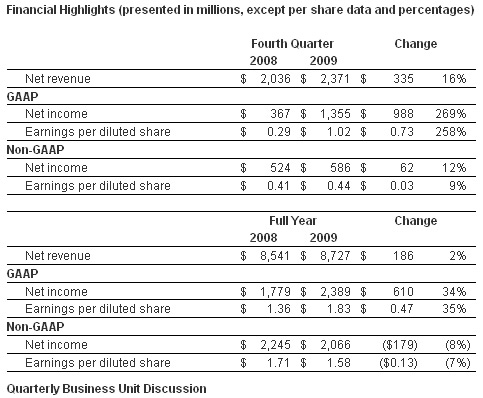 "We delivered a strong fourth quarter with double-digit revenue growth driven by exceptional performance at PayPal and turnaround progress and momentum in our core eBay business," said eBay President and CEO John Donahoe. "PayPal significantly expanded its presence globally and, for the first time, processed more than $20 billion in total payment volume in a quarter. Gross merchandise volume and sold items accelerated for the third consecutive quarter. We are starting 2010 with significant progress against our three-year growth strategies for PayPal and eBay and a clear focus on our priorities going forward."
eBay generated $770.6 million of operating cash flow and $597.7 million of free cash flow during the fourth quarter. If you really want to nitpick and get into all of the details, you can do so here. A balance sheet and various statements are provided.
Related Articles:
> eBay Declares Mobile Success For Holiday Season
> eBay Fined $2.6 Million Over LVMH Sales