eBay said today U.S. mobile commerce sales increased 146 percent year over year on Cyber Monday.
The company said mobile shopping peaked between 5pm and 7 pm PST. eBay said because of the growth in mobile holiday shopping it expects to generate more than $1.5 billion in gross merchandise volume in 2010, compared to $600 million in 2009.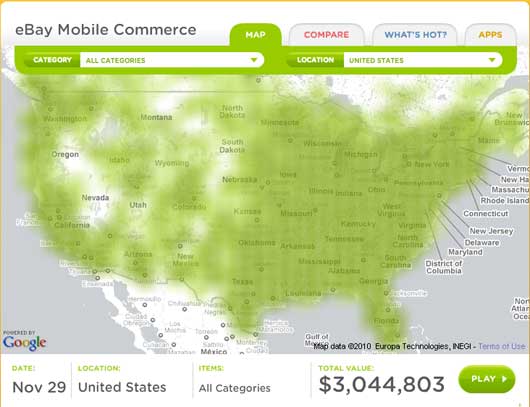 "This holiday season's strong growth speaks for itself: mobile is the future of shopping, and eBay is leading the way," said Steve Yankovich, vice president, mobile for eBay.
"People are realizing more than ever that you can shop smarter by taking your phone with you when you hit the mall – or by avoiding the mall altogether. Whether you're hunting for fashion, deals, or comparing prices, eBay mobile apps bridge the gap between online and in-store shopping and put the world's largest online marketplace right in your pocket."
A survey of mobile shoppers in the U.S. conducted for eBay by SmithGeiger shows that over half the people who regularly shop using their phones are comfortable spending over $100 on a mobile purchase, with 14 percent willing to spend over a thousand dollars. On average, according to the survey, mobile shoppers spend over $100 per month on mobile purchases
Among the findings from the past week, eBay mobile data indicates that the iPhone is the leading mobile platform for eBay shoppers this year, with approximately two-thirds of eBay sales during the holiday week coming from iPhone users. The remaining third was comprised of Android, BlackBerry and mobile web users combined, and where available, Windows Phone 7.