eBay's international presence is growing larger in a significant way today.  eBay announced this morning that it's taking control of GittiGidiyor, a company that was founded in 2001 and qualifies as the leading online marketplace in Turkey.
eBay now owns 93 percent of outstanding GittiGidiyor shares, and although terms of the transaction were not disclosed, eBay fans and shareholders should rest assured that this move isn't as random as it may sound.
For starters, eBay actually bought a minority stake in GittiGidiyor about four years ago, so it's had plenty of time to learn how the organization operates and be sure of its profitability.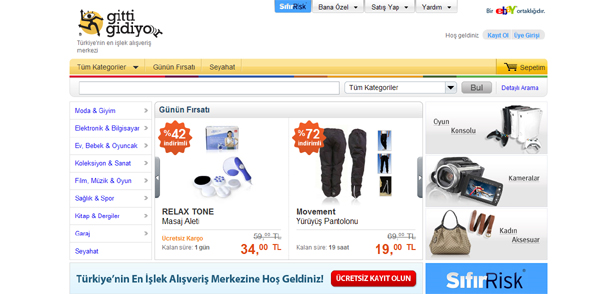 A couple other interesting facts: GittiGidiyor has over 6.4 million registered users, and according to Internet World Stats eBay highlighted, Turkey is the world's 12th largest market for Internet usage (with a penetration rate of 45 percent).
Anyway, Doug McCallum, eBay's senior vice president in Europe, said in a statement, "We knew that when we acquired a stake in GittiGidiyor that we were buying into an excellent business in an exciting ecommerce market.  Since 2007, we have been impressed with GittiGidiyor, its people, its VC investor iLab and its successful approach to ecommerce.  There is a lot that we can learn from GittiGidiyor, and much we can share."
As for how everyone else is reacting, eBay's stock is down 1.52 percent so far this morning, but given that the entire market is experiencing a steep decline, this one development may not be entirely (or at all) to blame.