The iPhone 4 is scheduled for release on June 24th. eBay has prepared for this and has set some rules for how the site will handle sales.
On eBay, Apple authorized resellers will be allowed to list an unlimited number of items per week. eBay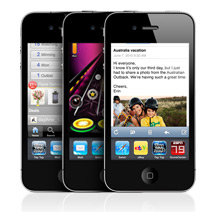 Top-rated sellers will be allowed to list up to 8 items per week. Sellers with a history of selling in the Cell Phones & PDAs category will be allowed to list up to 8 items per week. Everyone else will be allowed to list up to 4 items per week. All sellers are required to accept PayPal as their only method of payment.
Some that have ordered the new iPhones are getting them early, according to reports. According to Electronista, they will not activate yet though.
Some iPhone owners found that as they downloaded the newly released iOS 4, they didn't get all of the features. Gizmodo has an explanation of why 3G users haven't been able to get backgrounds or multitasking.
According to Bloomberg Businessweek, Barclays says Verizon will probably begin selling iPhones early next year.