One of the great things about sports is popularity doesn't mean much. Teams don't win by being popular. They win because of a rare mix of talent, luck and execution. Whether or not the rest of the world approves does not factor into the equation. Most non-large market champions, especially in professional baseball, understand this simple fact.
That being said, team popularity can be a boon, especially if it's a college sport where much of a program's success depends on how much talent can be recruited. Naturally, being a popular entity would help here. Maybe that's why Duke does as well as it does when it comes to recruiting basketball players. According to one of the latest Harris polls — Just in time for March Madness!!! — the most popular team in land of college basketball is the Duke Blue Devils.
Before we continue, a simple question: Did Duke win? Oh, wait… Well, if Coach K can't find some solace after losing to Arizona, perhaps he can find some in Duke's popularity.
The poll reveals that while four of the original Sweet 16 are in the top 10, teams like the Kansas Jayhawks, the Arizona Wildcats, the Florida Gators — they were actually second in eBay's "sales equal popularity" March Madness data crunch — and the Florida State Seminoles are not represented.
While the absence of FSU and Arizona might not be surprising, KU and Florida's certainly are. Harris' top ten: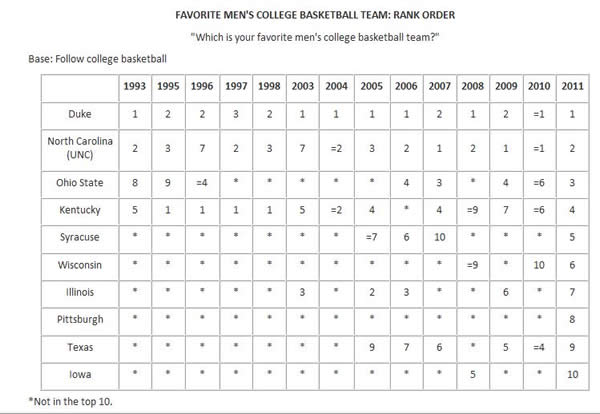 Click for a bigger image
The top four — Duke, North Carolina, Ohio State and Kentucky — come as little surprise, however, seeing teams like Pittsburgh and Syracuse show up before the aforementioned Gators and Jayhawks is odd.
Apparently, everyone Harris polled believed the hype about the Big East being the best conference in college basketball. As for Duke's latest college basketball win, it's just business as usual for Harris Interactive. According to the Marketing Charts blog post:
Duke was also ranked #1 in 2008, with current #2 UNC tying for first last year and coming in first in 2009 and second in 2008.
I take what I said above back, because it seems like the only people Harris asked were residents of Durham and Chapel Hill… Maybe they ESPN's array of on-air college basketball analysts, too.