Update: Quinn Daly, senior vice president, Corporate Communications at Demand Media has gotten back to us with the following comments:
eNom is the largest domain name wholesaler and we take this responsibility very seriously. We cooperate with multiple law enforcement agencies, as this is our policy and meets ICANN requirements. Customers suspected of using eNom products and services for illegal purposes are investigated and appropriate action is taken.
In this case, LegitScript and KnujOn do not represent law enforcement. LegitScript is a pharmacy trade organization, and KnujOn is an individual whose research has been called into question in the past.
We can confirm that we received the complaint issued by LegitScript and KnujOn, and the complaint is currently under review.
Original Article: KnujOn.com has released a report and corresponding press release claiming that Demand Media's domain registrar eNom may be knowingly sponsoring fraudulent pharmaceutical networks.
Here are a couple paragraphs from the release:
Our findings are shocking and go a long way to explain the prevalence of cybercrime and spam. While the major focus of the report concerns policy failures, in most cases we connect this with illicit Internet drug traffic. Registrars are the companies that sell domain names and 162 of them may be violating their contracts to the ultimate benefit of widespread criminal networks. 80 Registrars are blocking their WHOIS access. Several Registrars have bad WHOIS for their own websites.
Most troubling, one of the largest Registrars eNom (DemandMedia) may be knowingly facilitating the illicit traffic of rogue pharmaceuticals. eNom has been notified they are sponsoring fraudulent pharmacy networks and are in violation standards set by the National Association of Boards of Pharmacy. One network in particular is the GlavMed network, a criminal group that uses spam to advertise illicit sites. eNom pays in excess of half a million dollars per year to ICANN in fees alone and is by far one of the largest Registrars.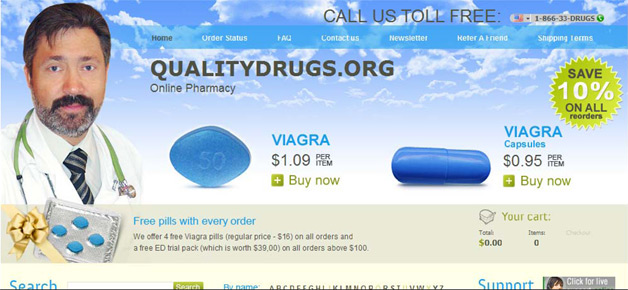 Image from the report
The whole report is here (pdf).
We've reached out to Demand Media for comment on this and will update when we we receive it.