Personally, I've never been overly concerned about receiving a perfect grade as long as I know I've done my best. I raised my kids to think the same way. I believe there may be a downside to every kid on the team getting trophies, or taking up an entire cub scout meeting to hand out enough awards, badges and patches to make an old general jealous.
But I understand that awards and recognition for great work can be both fulfilling and fun.
For example, and for some silly reason, I enjoy being the Foursquare mayor of Duck's Cosmic Kitchen in Decatur, Ga. I just lost my crown today, and I want it back.
And as a partner and creative director of a B2B marketing agency, I'm well aware of the value placed on winning industry awards; it enhances an agency's credibility among clients and prospects alike. Every award competition has its critics, but there is more at stake than large egos. Special recognition can also help grow your business.
I had never heard of a Klout score until I read about it in an article by marketing and blogging expert Mark Schaefer, entitled, "Get ready. Social scoring will change your life."
In fact, here's one of the predictions Mark made for 2011 in a more recent blog post:
"Social scoring takes center stage – Ask any of your friends about Klout and you're likely to get a blank stare. That's going to change as social influence scoring goes mainstream. Whether you like it or not, people love to rate and grade other people, and this is going to be an extremely hot trend. Think how large the market is for SEO gurus. Social scoring is basically personal SEO. How is the world going to change when every teenager on the planet is trying to figure out how to improve the social influence score showing up next to their Facebook profile?"
My engagement with social media is primarily through Twitter, LinkedIn and Facebook. I also blog. And though I enjoy the conversations, interactions, ideas, links and retweets, for me, it's all about business. And when it comes to social media marketing and B2B, everyone is looking for results.
Are badges, awards, scores, high ratings and recognition by industry peers a way of demonstrating results? I think so, but I also realize it's more important to measure inbound traffic, lead generation, conversion and sales results.
I don't keep a personal social media scorecard.
But maybe I should. Do you?
Business-to-business marketing is all about results, and there are more ways than ever to measure the ROI of almost everything we do. Whatever you call it – social media marketing, content marketing or inbound marketing – and whatever way you engage in it – from Twitter to Foursquare – you can score that now, too. There are many services for social media monitoring, conversion analytics and lead scoring, but what about your personal and professional influence?
How are you doing? How influential are you to other B2B marketers and the business community at large? I asked myself that question today and, in the interest of full-disclosure, I will share with you my scores and ratings on Klout and TwitterGrader.
I also compared my score to the aforementioned Mark Schaefer. I respect and follow Mark through his Twitter posts and prolific blogging, and we have become good friends and collaborators on many projects. I've learned a lot from his lead, so I thought I'd compare our scores and see if I could glean any new insights.
Klout Score – Billy vs. Mark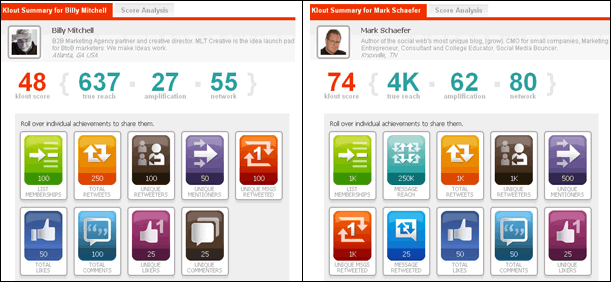 Twitter Grader – Billy vs. Mark


What did I learn from these reports?
Well, I learned I have a lot more to learn from Mark Schaefer for one thing.
The Klout score tells me Mark is way ahead of me in level of influence (no surprise there), and that I may never catch up. I did match his Twitter grade, though, and that is rewarding enough for now. It's not exactly a tie though. Of 8,428,847 twitter users, Mark is ranked 6,930 and I am a long, long way back at number 72,487.
How seriously should we take social media scores and awards? I'm not really sure, but I am interested. Are you? I'd like to hear your thoughts.