Disney/ABC and Nielsen have announced a new iPad app. The app is the first to be built on Nielsen's new Media-Sync Platform, and uses audio watermarks to sync mobile devices to TV Programming.
The app is for the show "My Generation", and provides synced, interactive content, as well as social media functionality on the iPad. Users of the app will be able to automatically synce to any episode (live or time-shifted) of the series and access exclusive interactive content produced by ABC as a companion to that specific point in the episode.
Companion content will include things like polls, trivia, behind-the-scenes insights, production details and social networking features. The app will also allow consumers to interact with companion messages from sponsors.
Clearly there is a lot of potential for this kind of thing moving forward, outside of this one app.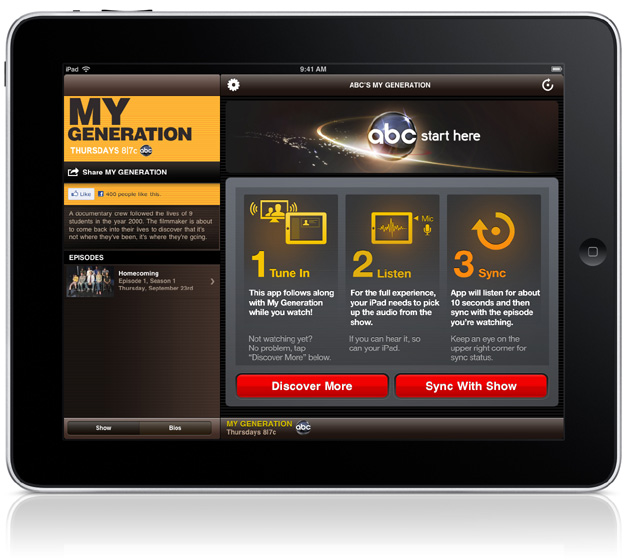 "In the ever-evolving television landscape, we are constantly looking to create immersive viewing experiences around our shows," says Albert Cheng, executive vice president, digital media, Disney/ABC Television Group. "Together with Nielsen, we've created a sync-to-broadcast app that appeals to both fans and advertisers, and holds an array of possibilities for deeper engagement with our content and our advertisers' brands."
"The Media-Sync Platform was born out of Nielsen's continuous investment in leading-edge audience measurement technologies and we believe it paves the way to fundamentally change the way consumers interact with TV programs and TV advertisements," says Sid Gorham, Nielsen's EVP, Strategy and Business Development. "We are thrilled to collaborate with the innovative team at Disney/ABC to develop the first Media-Sync app and look forward to a broader industry wide launch in early 2011."
The show itself starts Thursday, September 23, and the App is available in the App Store.