Earlier this month, we had a conversation with AdCentricity President Rob Gorrie, about the potential of digital out-of-home marketing, as location technology fuels the trend. His firm counts Disney, American Express, Verizon, Bank of America, Toyota, GM, Samsung, and Evian among its recent clients.
AdCentricity has released a new report exploring trends within this space, and he shared some further analysis with us. "The space is growing fast and, I think, is about to start growing faster than most expect it to in the next 2-3 years," Gorrie tells WebProNews. "I'm normally the cynic in the crowd raining on everyone's happy dance and even I'm getting a little giddy."
"In the next 2 years, DOOH screens will be intelligent enough to understand what happens to them, at the locations they're in and around the places they exist," he says. "Makes you wonder what that means for the likes of Facebook Places or Yelp…People will stop looking at these opportunities as 'buying media' that's for sure."
Spending on this medium is doing nothing but growing, and considering the points Gorrie makes, one can only expect that trend to continue: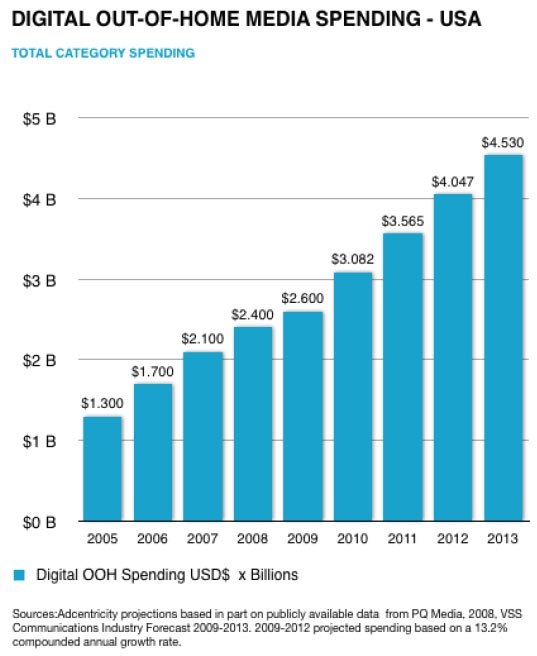 "It's fun to watch this space grow," Gorrie tells us. "I've been around online, mobile and social ad networks for the past 15 years and I am continually surprised and amazed at the sheer volume of data we can use in DOOH as an ad network for targeting."
"From my vantage point, some of the capabilities and data are way deeper and wider than online or mobile, especially for a medium at DOOH's adoption level," says Gorrie. "What brands can do with this medium is pretty powerful once you move past basic targeting."
We can no doubt expect increased innovation in advertising in the medium from brands willing to put up the money.
Gorrie had mentioned previously, "According to Nielsen, digital video in public venues reaches more Americans each month (70%) than video over the Internet (43%) or Facebook (41%)."
See the Q4 Digital Out-of-Home Market Review here.