Here at BlogWorld, Demand Media launched the Demand Media Blog Network, to syndicate bloggers' content across Demand's own properties like eHow and Livestrong.com, as well as the company's Content Channels partner sites.
"This new offering on our studios platform expands our mission of publishing high quality content at scale," says Stewart Marlborough, GM of Demand Media Studios. "We are already a leader in publishing original, actionable, evergreen content. With the addition of the Demand Media Blog Network, we broaden our content offerings to include timely, topical and opinion-based content from the best of the blogospshere. Now highly-qualified bloggers will have the opportunity to extend their individual brands to the millions of people that visit Demand Media's websites and those of our partners."
Demand Media pitches the Blog Distribution Network as a way to help boggers be more successful by giving them the tools and distribution they need to effectively expand their audience and build their brands. The flyer the company is handing out at their exhibit promises:
– Have your blog featured on highly trafficked, high PageRank sites
– Drive traffic and additional engagement on your blog
– Grow your fan base and interact with new audiences
– Interact with fellow bloggers through forums, meet ups and more
– Leverage our revenue share program to earn additional income
– Gain valuable insights through our Blogger Workdesk
I have to give Demand Media credit for picking a good time to launch this product. BlogWorld is full of bloggers looking for many of these elements. Considering
the keynote discussion
among ProBlogger's Darren Rowse and CopyBlogger's Brian Clark and Sonia Simone about all of the harsh realities of making money blogging, Demand's offering is apt to gain a great deal of attention from much of the audience of this year's event. It probably also helped that they hosted a party at the event.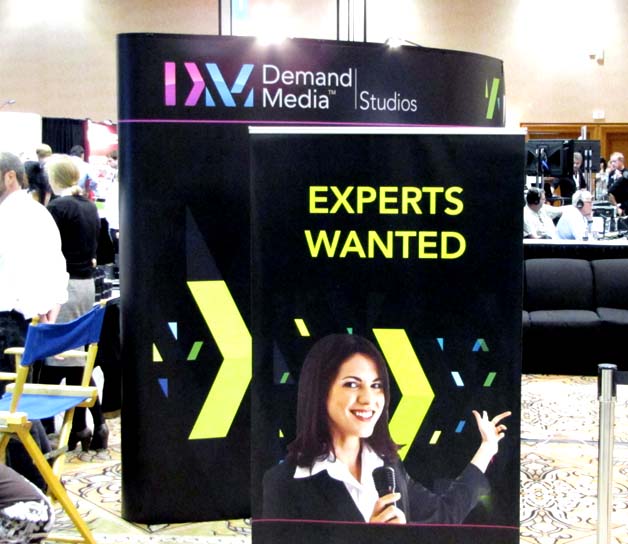 Also at the event, we spoke with John Hewitt, who ran a session on how-to articles (the premise of Demand's eHow.com), about how the average blogger can compete with companies like Demand Media and Yahoo's Associated Content (which is also represented here at the show). He simply said to make your content better, because frankly, the stuff that you'll find on Demand's properties isn't always of the highest quality (not that this is the case with all of the their content). Demand has discussed its plans to make this better numerous times throughout the year, and the company appears to be taking the subject very seriously.
It will be interesting to see the kind of content that gets picked up through the Blog Distribution Network. I spoke with a couple reps at Demand's booth, who told me that they'll have editors going through all the content submissions and overseeing the approval process. They will not accept any obscene content, as they're looking to keep it family friendly. They also told me they're only interested in blogs that are updated regularly.
Some of the folks trying to learn about writing good how-to articles may actually find applying for this program to be a better alternative to trying to compete with eHow.
Either way, its clear that Demand Media is building an army of content producers. If you thought they were already doing this, you can only imagine how much this blog syndication will take things up a notch.