Add another provider to the growing list of daily deal options for customers and businesses. Believe it or not, this one comes from another established, well-known brand (actually two well-known brands).
A representative for AT&T tells WebProNews, "AT&T plans to focus on deals for real-life, every day needs including dining, personal care, home services, entertainment and travel."
The service is attached to YellowPages.com, and pre-registration is now open.
 
"With AT&T's existing reach in local search, the daily deals marketplace gives us an opportunity to expand our nearly $1B local advertising business and offer another way for merchants to connect with consumers," the rep says. "Consumers in Los Angeles, Atlanta and Dallas/Fort Worth interested in receiving the deal of the day are encouraged to sign up now to receive $10 off their first purchased deal."
"The initial 3 cities were chosen based on consumer and advertiser engagement opportunities and existing relationships, but we're already working to deliver more deals to more cities," she adds.
Most daily deals offerings include heavy use of email marketing – a strategy Groupon is well-known for, and Google is emulating with its Google Offers. Facebook has a slightly different approach, utilizing  the news feed to get deals in front of customers. It will be interesting in time, to see which strategy works better.
In the age of Google, where it is simple to find the information about just about any local business on the leading search engine, you might ask just how relevant YellowPages.com actually is. Well, based on data from compete, it's doing pretty well, with traffic growing steadily. Daily deals could only serve to help that, I would think.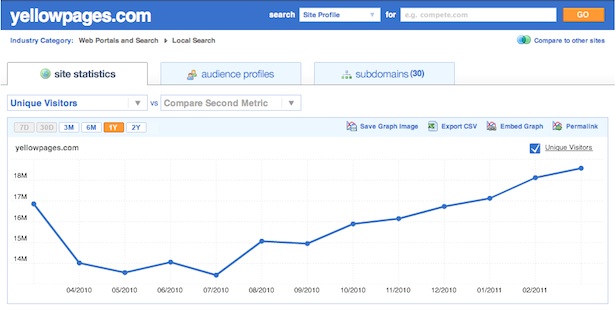 The daily deals space, while getting more crowded, is also getting more interesting in that it seems to be merging with the location-based service industry in some ways. For example, look at Groupon's acquisition of Whrrl. Foursquare, the poster-child of the check-in app space is doing more and more for businesses to make offers to customers. The company also has not ruled out potential partnerships with Google.
It makes perfect sense that these two spaces would come together. Deals give people a reason (beyond the gaming element) to use check-in apps, and they give the apps better monetization strategies. With more consumers carrying smartphones around in their pockets, deals are going to be around every corner, as businesses advertise with this growing number of services.
Deal aggregation is going to be key moving forward.