It's been quite clear that Android usage has been growing steadily, but a report from the NPD Group finds that in the first quarter of 2010, Android devices actually outsold iPhones (still behind RIM) in the U.S.
Here are the market share numbers for sales in the first quarter according to the report:
RIM: 36%
Android: 28%
Apple: 21%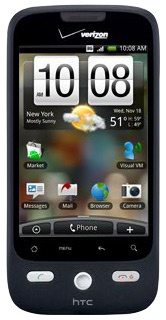 "As in the past, carrier distribution and promotion have played a crucial role in determining smartphone market share," says Ross Rubin, executive director of industry analysis for NPD. "In order to compete with the iPhone, Verizon Wireless has expanded its buy-one-get-one offer beyond RIM devices to now include all of their smartphones."
Such offers have been available for devices like the Droid, Droid Eris (pictured), and BlackBerry Curve.
As far as carriers, AT&T accounted for 32% of smarthone sales, with Verizon accounting for 30%, T-Mobile accounting for 17% and Sprint accounting for 15%.
"Recent previews of BlackBerry 6, the recently announced acquisition of Palm by HP, and the pending release of Windows Phone 7 demonstrates the industry's willingness to make investments to address consumer demand for smartphones and other mobile devices," says Rubin. "Carriers continue to offer attractive pricing for devices, but will need to present other data-plan options to attract more customers in the future."
In considering the data from the report, it's important to keep in mind the methodology behind it. It was compiled from 150,000 completed online customer research surveys. The figures don't include corporate/enterprise mobile phone sales.