Last week, rumors indicated that Google CEO Eric Schmidt might be in the running for the position of U.S. Commerce Secretary.  Now, the organization called Consumer Watchdog – which is perhaps Google's most outspoken critic – has come out strongly against the idea.
Consumer Watchdog President Jamie Court and Privacy Project Director John M. Simpson wrote in a public letter to President Obama, "Mr. Schmidt's views on privacy, antitrust issues, workers rights and commercial growth are inimical to the ethical customs, social mores and rules of law the American people have demanded of their leaders."
Then, in a criticism of both Schmidt and Google, Court and Simpson continued, "Reckless data mining in pursuit of profit is how Mr. Schmidt became a billionaire, but it should not be the official policy of the Commerce Department, which is the federal agency charged with establishing and executing the Administration's official online privacy policies.  Putting Eric Schmidt in charge of policing online privacy is like appointing Bernie Madoff to direct the Securities Exchange Commission."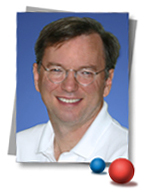 Finally, the pair provided a sort of "worst of" collection of quotes from Schmidt:
"If you have something that you don't want anyone to know, maybe you shouldn't be doing it in the first place."

"We know where you are, we know where you have been, we can more or less know what you are thinking about."

"There is what I call the creepy line.  The Google Policy on a lot of things is to get right up to the creepy line and not cross it."
That could provide everyone involved with the Commerce Secretary decision a little food for thought, although we'll note again that it hasn't even been confirmed whether Schmidt's in the running.