Connecticut Attorney General Richard Blumenthal is investigating Apple and Amazon.com over potentially anticompetitive e-book deals.
Both Amazon and Apple have reached agreements with the largest e-book publishers that ensure both will receive the best prices for e-books over any competitors.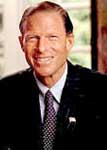 "These agreements among publishers, Amazon and Apple appear to have already resulted in uniform prices for many of the most popular e-books — potentially depriving consumers of competitive prices," Blumenthal said.
"The e-book market is set to explode — with analysts predicting that e-book readers will be among the holiday season's biggest electronic gifts — warranting prompt review of the potential anti-consumer impacts."
In letters to Amazon.Com and Apple, Blumenthal is calling on the companies to meet with his office to address these concerns. Publishers that have reached such agreements with Amazon and Apple include Macmillan, Simon & Schuster, Hachette, HarperCollins and Penguin.
After a preliminary review, Blumenthal's office has already found that e-book prices offered by Amazon, Apple, Borders and Barnes & Noble for several New York Times Bestseller books were identical among all four sellers.
"Amazon and Apple combined will likely command the greatest share of the retail e-book market, allowing their most-favored-nation clauses to effectively set the floor prices for the most popular e-books," Blumenthal said.
"Such agreements — especially when offered to two of the largest e-book retail competitors in the United States — threaten to encourage coordinated pricing and discourage discounting."