This may not come as a surprise, but the end of 2010 didn't pose much of a stumbling block for Google's mobile operating system. New numbers from comScore are out, and Android continued to make significant gains in December.
comScore pegged Google's share of American smartphone subscribers at 28.7 percent in December, up from 26.0 percent in November. That's a big rise, suggesting Android devices were a go-to holiday present.
No other mobile operating system pulled off a similar win, either, as Android was actually the sole OS to see a month-over-month increase. Then Apple was the sort of runner-up, holding steady at 25.0 percent.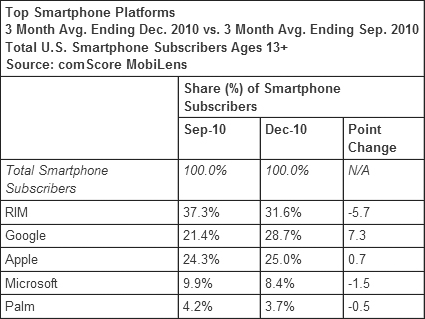 Meanwhile, RIM's market share fell from 33.5 percent to 31.6 percent, Microsoft's market share decreased from 9.0 percent to 8.4 percent, and Palm's market share slipped from 3.9 percent to 3.7 percent between November and December.
So Android might become the top mobile operating system this month (or could even have secured the title in January), by comScore's standards, if these patterns persist.
It's of course very possible that the end of the holiday season and the launch of the Verizon iPhone will alter Android's growth rate, however.