The average attempted click fraud rate increased from 18.6 percent in the third quarter of 2009, to 25.7 percent in the fourth quarter according to a new report from Anchor Intelligence.
The jump in the attempted click fraud rate in Q4 was due to more activity by click fraudsters looking to take advantage of the increase in holiday ad spend online. The spread of botnets, which are used for automating traffic and coordinating click fraud activity, spiked late in the quarter.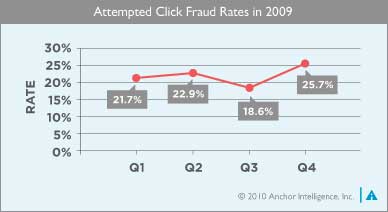 "As botnets become more flexible and resilient, click fraud will be increasingly difficult to identify without a collaborative and systematic, network-based approach," said Ken Miller, CEO of Anchor Intelligence.
"By releasing this report, we hope to provide a barometer by which the industry can assess the level of threats to online advertising while also conveying the importance of advertising with ad networks and search engines that partner with third-parties to certify their traffic quality."
Highlights from the report include:
In Q4 2009, the attempted click fraud rate peaked at 25.7%.
The 5 countries with the highest attempted click fraud rates in 2009 were Vietnam, U.S., Egypt, Canada, and Australia. In particular, the U.S. and Canada accounted for the vast majority of traffic volume, making these two countries the largest sources of attempted click fraud by volume.
Anchor predicts that click fraud attempts will increase in 2010 as cybercriminals increasingly exploit the growth and adoption of social networks such as Facebook and tools such as Twitter.
Related Articles:
> How Search Engines Manage Click Fraud
> Botnets Driving Click fraud Traffic