Apple's official stance on its iAd platform is that it "gives brands what they've been waiting for: access to the global audience of iPhone and iPod touch users, enhanced targeting, premium creative and robust measurement." But yesterday, Carol Bartz indicated that the platform's more or less doomed.
Without mincing words, Yahoo's CEO predicted during an interview with Reuters, "That's going to fall apart for them."
The Reuters article summing up Bartz's comments then explained, "She suggested that advertisers will balk on Apple's efforts to exert full Jobsean control over the ads."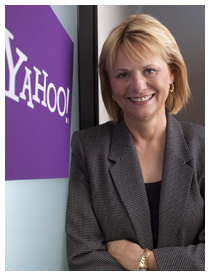 Those opinions are sure to cause some interesting debates between Apple fans and Yahoo supporters (and/or Steve Jobs critics). Bartz might have a point about Apple's tendency to implement overly strict rules, after all, yet Yahoo's recent track record doesn't give her absolute authority on advertising-related matters.
Two more interesting facts before we wrap things up and let everyone start arguing in the comments section: first, Bartz admitted during the interview with Reuters that iAds are "okay for experimentation."
Second, Apple's stock is up 0.01 percent at this time, while Yahoo's stock has already fallen 1.29 percent this morning.