Carol Bartz is five days away from her one-year anniversary as Yahoo's CEO, and in that time, she feels she's done a fairly decent job of leading the company. In a recent interview, Bartz graded her performance as B- material.
Bartz indicated to Brian Womack that speed (or actually, a lack thereof) might have been her biggest problem. She said "she could have moved faster to reorganize the company and strike a Web-search agreement with Microsoft," Womack reported.
Bartz also stated, "It was a little tougher internally than I think I had anticipated. I did move fast, but this is a big job."
Feel free to use the comments section to say what grade you think Bartz deserves. A point in her favor: during the past year, the value of Yahoo's stock has risen by 36.66 percent.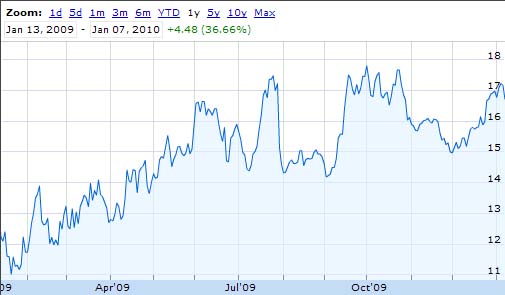 A couple of points against: in the same stretch, the Nasdaq's gone up 49.46 percent, and Microsoft's proposed acquisition would have been significantly more profitable for shareholders.
Anyway, with regards to the future, Womack wrote, "Bartz said she plans to do more acquisitions this year, probably of less than $1 billion apiece. Potential targets include overseas companies and data-analytics businesses that help advertisers assess their results."
Related Articles:
> Kaufman Bros. Analyst Upgrades Yahoo
> Carol Bartz Delivers Pep Talk