Yahoo has announced the launch of a new homepage for its Canadian users (an effort the company says will bring together the "best of the web with the best of Yahoo"). The home page lets users add apps, much like the current US version.
"The Web is an indispensable part of Canadians' lives, it's where they socialize, stay in touch with family and friends, buy products and services and share their photos and memories," says Matt Idema, Yahoo! vice president and country manager, Canada. "Whether for their PC or mobile device, Yahoo! Canada is bringing greater simplicity and relevance to the way Canadians experience the Web. Our new homepage is designed to help Canadians stay on top of what is going on in their world, and around the world no matter where they are."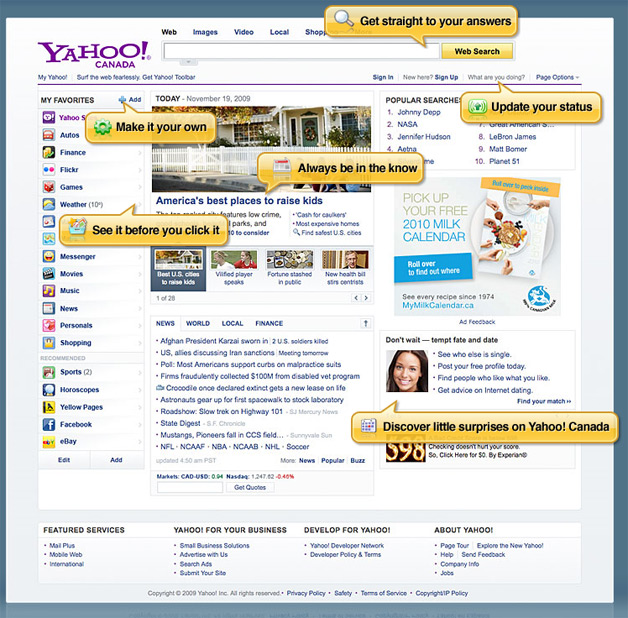 Features of the new page include:
– My Favourites
– App Maker
– Social Updates
– News, For you
– PC to Mobile Sync
Of course the Olympic Games are coming up in Canada, and Yahoo is getting this page launched just in time for that. The company says it will offer coverage in the following capacities:
* Yahoo.ca will feature expert commentary from well-known Canadian athletes including Elvis Stojko (figure skating), Ken Daneyko (hockey), and Jennifer Jones (curling), who will bring a uniquely Canadian perspective to their coverage.
* Yahoo! Canada has expanded its sports editorial team at home to include former Globe and Mail staffers Steve McAllister and Ian Denomme.
* Yahoo!'s coverage of the Games via its mobile site, scheduled to launch on February 9, will enable fans on the go to keep up with the latest happenings, including medal counts, news and expert coverage, live results, athlete profiles and more.
* You'll also be able to follow Yahoo! Canada's Games coverage on Twitter at: http://twitter.com/YahooSportsCA/
The new Yahoo home page in Canada becomes available tomorrow. A preview is available here.

Related Articles:
> Yahoo Upgrades Yahoo Finance Search
> Yahoo Adds Ernst & Young Veteran To Board