GM is working on a campaign to promote its 2011 Buick Regal and has launched a website called "Moment of Truth."
GM promises its Moment of Truth site will include all reviews and consumer opinions no matter if they are negative or positive.
"We are inviting consumers to find out on their own that Regal is a true performance sedan and worthy of their consideration," said Craig Bierley, Buick advertising director.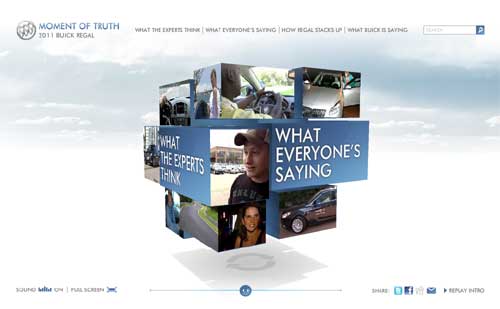 "We are making it easy for the consumer to get unbiased opinions in one online location."
Moment of Truth will pull in content from a variety of social media sources and give users the ability to share via social networks. It includes YouTube videos, Flickr photos, comments from Buick's Regal tab on Facebook, tweets from Twitter, as well as automotive reviews and blogs. Anyone can be a contributor to Moment of Truth by sharing their stories related to the Regal and posting them online.
Other elements of the Buick Regal advertising campaign started earlier this month in unconventional and traditional outlets. The campaign continues to build on advertising outreach that Buick started with the LaCrosse launch last year.