Broadband penetration in rural markets in U.S. has experienced double-digit growth in the past year, driven largely by regional providers continuing to increase their market share in these areas, according to a new report by comScore.
"The recent announcement of the government's national broadband plan demonstrates the increasing importance of broadband expansion as a country-wide initiative, with rural areas playing an important role in this expansion," said Brian Jurutka, comScore senior vice president.
"Although rural markets have witnessed significant increases in broadband penetration during the past few years, these areas still lag behind the penetration rates of metropolitan areas. As the primary drivers of rural broadband growth, regional ISPs have the opportunity to increase their market share by delivering broadband to the millions of households still relying on dial-up services."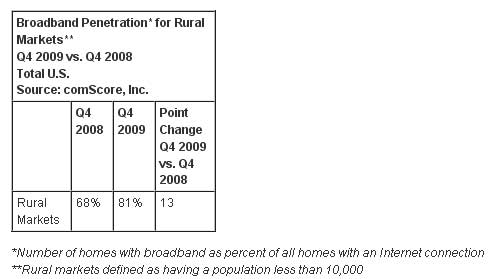 Driven by greater price competition, increased consumer demand, and growth in bandwidth-intense activities like video streaming and peer-to-peer sharing, broadband penetration continues to make gains across rural markets. Broadband penetration in rural markets reached 81 percent in Q4 2009, representing a significant increase of 13 percentage points in the past year.
Regional ISPs ranked among the fastest-growing providers across several rural U.S. markets. In Maine, TDS Telecom experienced a 101 percent increase in the number of broadband households, while in Arkansas Windstream Communications recorded a 57 percent gain. Frontier Communications led as the fastest-growing ISP in Nebraska (up 28 percent), Idaho (up 27 percent) and Alabama (up 26 percent).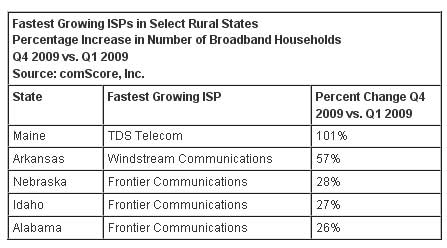 Regional service providers GCI and Bresnan Communications ranked as the leading service providers in the country's three most rural markets (based on population density). GCI captured 61 percent of the broadband market in Alaska during Q4 2009, while Bresnan Communications reached 56 percent share in Wyoming and 52 percent share in Montana.
"Often major ISPs need to focus their strategic operations in their largest and most profitable markets, which gives smaller regional providers the opportunity to establish strongholds in more rural areas while playing a key role in national broadband expansion," said Jurutka.