The British Royal Family has launched a photo account on Flickr.
The British Monarchy Flickr accounts features up to date images of royal engagements and archive photographs from the Royal Photograph Collection.
In addition to contemporary images of The Queen and Members of the Royal Family at work, the Flickr account features historic photographs from current Royal Collection exhibitions at The Queen's Gallery, Buckingham Palace and Windsor Castle and on loan to museums and galleries around the UK. They include masterpieces of early British photography collected by Queen Victoria and Prince Albert.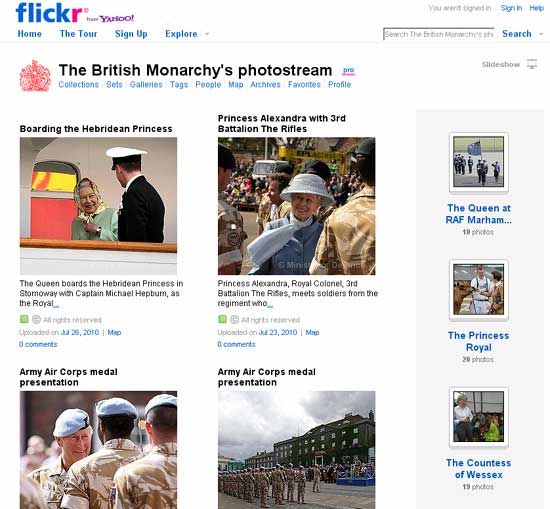 The Flickr launch follows the launch of the new Royal website and the British Monarchy Twitter account in 2009 and the Royal Channel on YouTube in 2007.
Highlights of the Flickr account include:
A "Latest news and diary" gallery showing the latest photographs from royal engagements.
– Collections from The Queen's recent visit to Canada and New York, and Holyrood Week.
– A "Queen and Commonwealth" section, which includes pictures of Royal visits to Commonwealth realms and related engagements.
At launch there are over 600 photographs, and this number will increase as the Flickr account is updated with photos from Royal engagements and events.