Google just made a huge move that may have heavier ramifications on search quality than even the Panda Update. Google has basically taken the ability to block sites that it released in a Chrome extension recently, and simply added it to the Google search user interface, meaning that many more people are likely to take advantage.
Now, if you don't want results from a certain site anymore, you can simply block it. So, you better produce quality content if you don't want people to block your site.
Google Search Quality Engineers Amay Champaneria and Beverly Yang explain, "Once you've blocked a domain, you won't see it in your future search results. (Side note: Sometimes you may have to search on a new term, rather than simply refreshing your browser, before you'll notice the domain has been successfully removed.) The next time you're searching and a blocked page would have appeared, you'll see a message telling you results have been blocked, making it easy to manage your personal list of blocked sites. This message will appear at the top or bottom of the results page depending on the relevance of the blocked pages."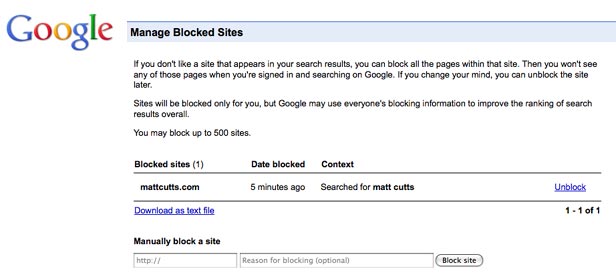 Users will always be able to see a list of their blocked sites in their search settings, so if you want to unblock a site, you can always do that. You can block a new site on settings page as well.
"We're adding this feature because we believe giving you control over the results you find will provide an even more personalized and enjoyable experience on Google," the two engineers say. "In addition, while we're not currently using the domains people block as a signal in ranking, we'll look at the data and see whether it would be useful as we continue to evaluate and improve our search results in the future."
The main obstacle Google is likely to have to deal with in terms of this being a useful signal for rankings, is the potential for it to be abused – think competitors, biases, spite, etc. If there is a way to prevent that kind of thing, this would clearly be a useful signal. That might not be so easy though.
Users should start seeing the feature in their Google searches today or tomorrow in English for Chrome 9+, IE8+ and Firefox 3.5+. They'll expand into more regions, languages, and browsers soon, the company says.