Bing surpassed Yahoo in search for the first time worldwide in January and increased its lead in February, according to a new report from StatCounter.
The report found that globally Bing reached 4.37 percent in February ahead of Yahoo at 3.93 percent. Google continues to lead globally with 89.94 percent of the search engine market.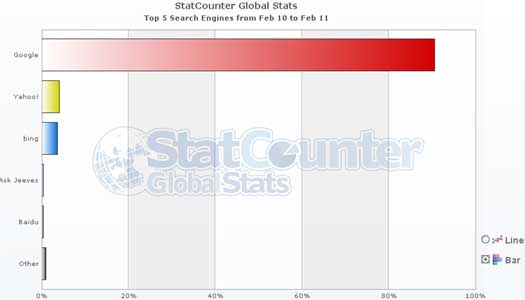 In the United States Yahoo (9.74%) still has its lead over Bing at 9.03 percent. Google's share in the US is 79.63%. In July 2009 Microsoft announced an agreement that Bing would power the Yahoo search technology. This has been implemented in the US, Canada, Australia, Brazil and Mexico.
"It is significant that Bing overtook Yahoo! globally for the first time on a monthly basis but it remains a tough battle to claw back Google's market share," commented Aodhan Cullen, CEO, StatCounter.
"Although Google dipped below the 90% mark in February worldwide for the first time since August 2009 it shows little sign of losing its global dominance any time soon."