The U.S. paid search market saw spending increase 5.8 percent year-over-year in the third quarter, with July growing 4.9 percent, August 5.8 percent and September 6.7 percent, according to a new report from SearchIgnite.
Bing saw the most spend growth, up 21 percent year-over-year, with market share gains of 6.4 percent in Q3 (up from 6.2% in Q2). Yahoo saw a 10 percent decline in search ad spend over Q3, with market share falling to 13.4 percent from 15.4 percent in Q2. The report says the drop, along with gain in Bing, is partially due to testing occurring on the combined Yahoo/Bing search alliance.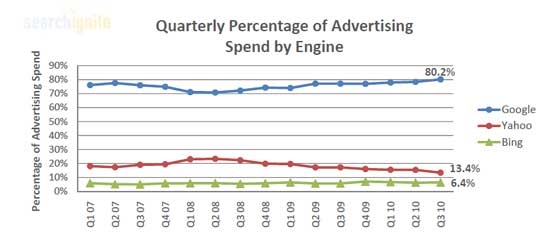 Google continued to lead with 80.2 percent of U.S. search spend, up nearly 2 percentage points from Q2, and representing 7.9 percent year-over-year growth. This is the largest market share by Google since SearchIgnite began tracking search engine market share data in Q1 2007. The jump in size marks the largest quarter-over-quarter increase for Google since Q1 2009.
"Google continued to increase its dominance in the paid search market in the third quarter," said Roger Barnette, CEO of SearchIgnite.
"However, the Bing/Yahoo! alliance is performing well for advertisers thus far, and marketers want to see a viable competitor to Google in the market. We feel that there is a real opportunity for Bing to capture significant market share in the near term if these early results continue to play out in the fourth quarter."