BlackBerry users who feel ignored every time a report on the mobile industry stops after comparing Android devices and the iPhone have reason to be grateful to Bing. Today, Bing for Mobile updates were announced that will bring the app to more BlackBerry users, add new features, and improve the overall experience to boot.
Let's start with the subject of compatibility. Thanks to the updates, the app will now work on devices running BlackBerry OS6, meaning early adopters won't be denied the chance to use Bing. And traditionally, that's been an important group of people for tech organizations to reach and satisfy.
As for the new features, the more self-explanatory ones are a safe search option, image search, "What's Nearby," and instant answers related to airplane flights.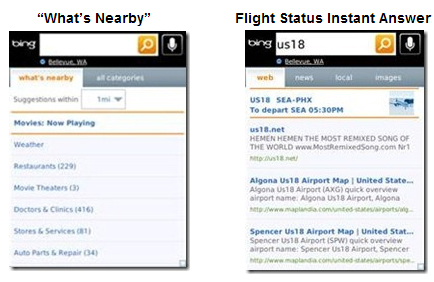 Then, just as a Bing user might see on his or her desktop, there are also "Homepage Hotspots." A post on the Bing Search Blog explained, "If you have a little time to spend and want to explore the day's image, point around it until you find a hotspot. Hidden in the image, hotspots are intended intrigue and inform you. If you look, you'll find four of them every day. Each gives you a chance to find out more about the subject of the image."
Finally, general performance improvements should make everybody happy.
It'll be interesting to see if these updates help Bing increase its mobile search share.