Bing has launched a handful of new features for its mobile site at m.bing.com. These include updates to image search, transit/directions, shopping, weather, movies, and app search.
Bing has added transit directions, along with the duration of the trip based on walking, transit, and traffic info. Real-time transit info is available for Boston, San Francisco, Seattle, Chicago, and LA.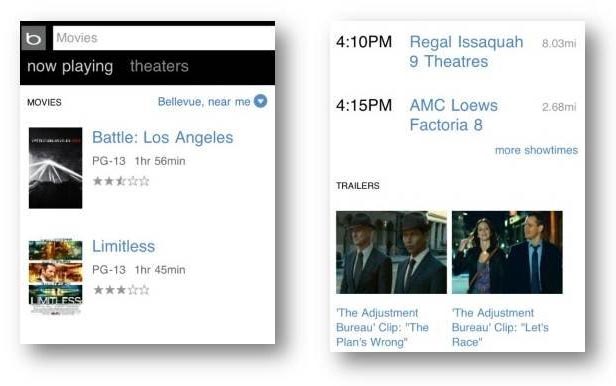 Image search is faster and smoother, and shopping results have been updated. "Get your shopping questions answered faster with the new re-organized shopping experience designed to make it easier for you to get your shopping questions answered, comparison shop, and discover product details and user reviews while on the go," says Andy Chu, Director of Product Management Bing for Mobile.
Bing runs down the new features in the following two videos:
Video: The Bing for Mobile Browse Experience Gets Even Better
Video: Bing for Mobile Browse Experience Gets Even Better
If you search for movies, they are now organized by time and nearest theater, and include reviews, synopsis, trailers, etc.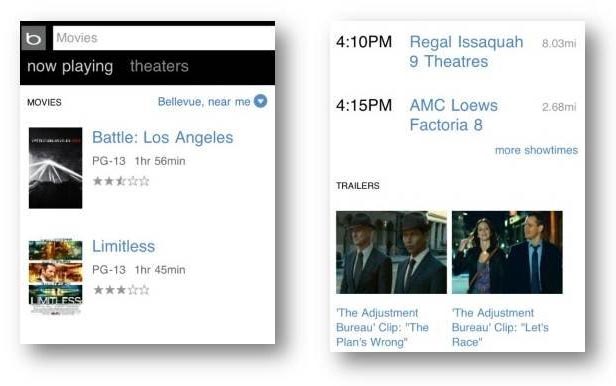 Weather autosuggest and instant answer features have been added to the search bar. The Weather tab has also been updated with four forecast views.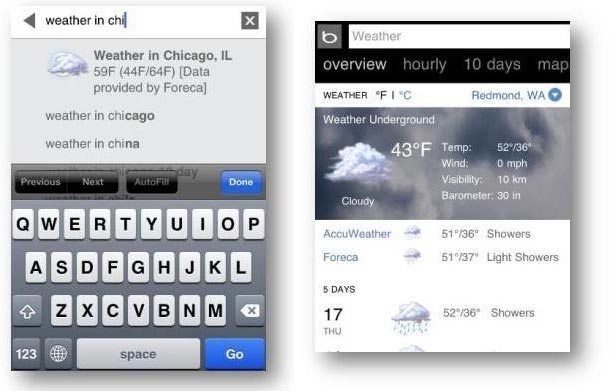 If you use m.bing.com on an iPhone, you can search for apps.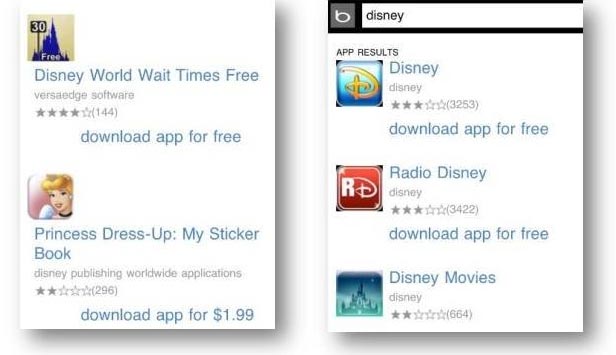 Separately, Bing Maps now has the nine largest shopping malls in the U.S. mapped out, bringing the total number of malls to 148. Bing announced the addition of malls to Bing Maps in December.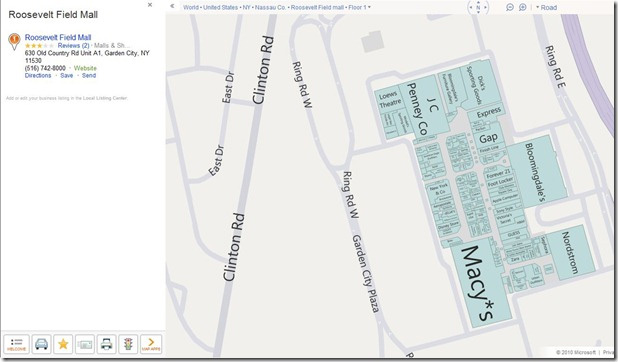 "For most of our mall maps, you can see parking, ATMs, entrances, as well as many other mall services," says the Bing Maps team. "Additionally, when searching on Bing Maps for a certain mall or store within that mall, you will be shown a 'mall map' link in the search results contact card."
The nine largest malls, by the way, are: Mall of America (MN), South Coast Plaza (CA), Woodfield Shopping Center (IL), King of Prussia Mall (PA), Millcreek Mall (PA), Del Amo Fashion Center (CA), Houston Galleria (TX), Roosevelt Field (NY), and Tysons Corner Center (VA).