Bing has released a couple new social search feature, utilizing Twitter and Facebook in new ways.
First off, Bing has started adding tweets into Bing News. "Awhile back we introduced Bing social which lets you plunge into the real-time tweet stream to uncover the latest updates on the Web," Bing says. "This week we took it a step further by integrating some of this real time social data into Bing news."
You can see a realtime feed of tweets in the right hand column for additional news or updates related to whatever keywords you're searching for. Want the latest on Groupon? You can get the traditional news articles and blog posts along with Groupon-related tweets as they roll in.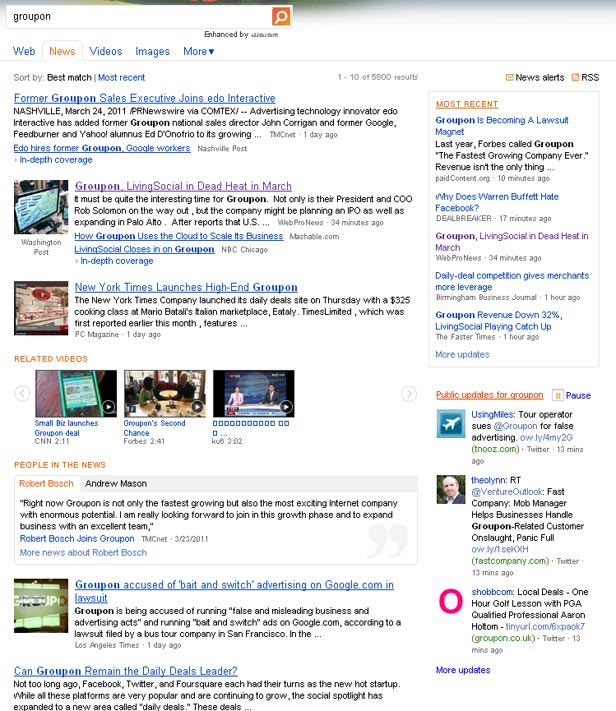 "As we've seen with the tragedy in Japan or political turmoil in the Middle East, real people are relaying timely and compelling items not captured by traditional outlets," says Bing. "Bing news now lets you compare and assess authoritative news analysis alongside real-time citizen journalists so you can decide which content sources you want to use."
As far as the new Facebook integration, they've rolled out a new Facebook share option on results for movies, TV shows, actors, bands, and artists.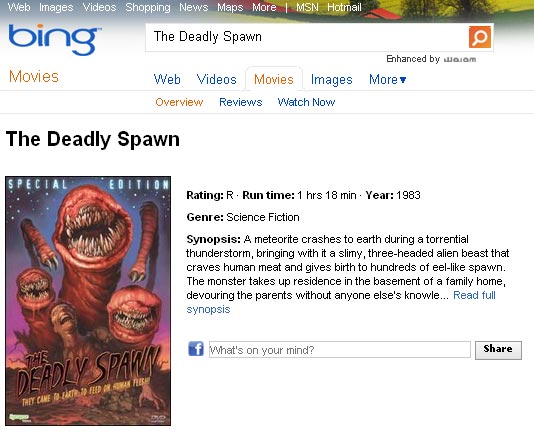 Bing has been finding more ways to integrate with Facebook – one area where Google continues to do very little. There is a lot of potential for Facebook data to make search results more relevant, but moves like this also help to promote Bing itself.
Bing's market share has grown every month since its launch, according to the company.