In keeping with its expansion of travel-related features, Bing has launched new Attractions Pages, and an Attractions Tab as a search option. The feature is designed to be a way to find out more information related to specific tourist attractions for any given location.
From the looks of it, they have a lot of attractions to add, but they have a pretty good start. Let's say you're traveling to Lexington, KY (home of WebProNews). If you want to see some ideas of what to do while you're there, you can search using the Attractions tab and find places like Keeneland (one of our race tracks), or the Maker's Mark Distillery, one of several nearby bourbon distilleries.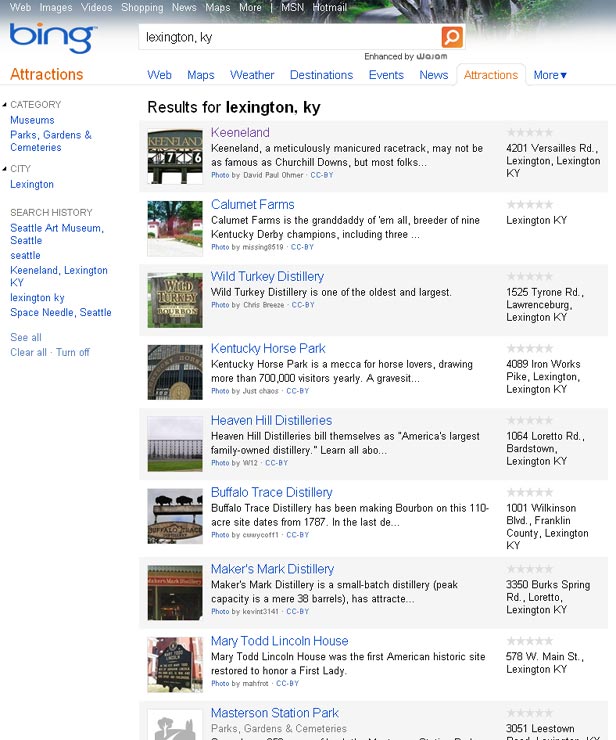 The attractions pages themselves provide address, website, and phone information, as well as star rating system. They also provide things like related images and videos, maps, hours of operation, upcoming events, reviews, directions, nearby restaurants and parking, etc.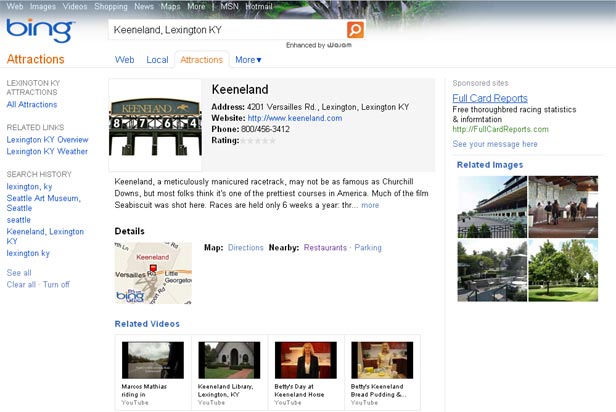 Video: Bing Feature Update: Check out top city attractions before you go
"To ensure you have up-to-the-minute information, we are teaming closely with leading content providers including Frommers, TripAdvisor, WCities and Zvents," Bing says in a blog post on the new pages.
Bing says it has pages for 52,000 attractions around the world.
Travel is clearly one of Bing's main focuses (a major reason why Bing joined the FairSearch Coalition to push for the blocking of Google'S ITA Software acquisition, no doubt). Other recent travel-related announcements from Bing include a flight search partnership with KAYAK, the insertion of flight price suggestions in the search box, and destination pages for cities (which are somewhat similar to the new Attractions pages).