The Better Business Bureau is warning people about the practices and claims of some online payday lenders.
"Desperate times are leading people to the Internet to apply for payday loans and many are falling deeper into debt after getting tangled up with a lender who has zero regard for the law," said Stephen A. Cox, President and CEO of the Council of Better Business Bureaus.
"Unlike a payday loan that you might get from a local business, online payday loans require your bank account number and, as a result, the borrower is at the mercy of the lender as more money than they counted on is withdrawn from his or her account."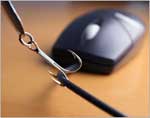 Hundreds of people have complained to the BBB after signing up for a payday loan on sites like OnceClickCash, 500Fastcash and rbloans. Consumers complaints said they agreed to what they thought was a one-time payday loan, usually a few hundred dollars to be paid off in two weeks. They provided their bank account information to the lender and the money was then deposited.
The arrangement leads to a debt spiral. All of the subsequent payments went toward paying off recurring finance charges and never toward the principal. As a result, consumers report paying two and three times the amount of the original loan and still having the same amount of principal to payoff. One Massachusetts woman who received a loan from Ace Cash Services said she made over $1,700 in payments to payoff a $225 loan.
Many consumers were surprised to hear that the online lender was not licensed by the state and charged interest rates well over what was allowed by their state laws. When confronted, the lender usually responds they don't have to follow state or federal laws, claiming they are based in another country or on a Native American reservation.
"The bottom line here is that if you are handing over your bank account information online to get a payday loan without doing your research, you are setting yourself up to pay hundreds and even thousands of dollars more than you bargained for," added Cox.