Baskin-Robbins has launched a new campaign for its Facebook fans to get free scoops of ice cream.
Baskin-Robbins Facebook fans can sign up for "Group Scoop" on Facebook and start their own group or joins someone else's. Once the number of people in a "Group Scoop" reaches 31, the organizer and all 30 other members will receive a coupon for a free 2.5 oz scoop of ice cream or a 3 oz swirl of soft serve.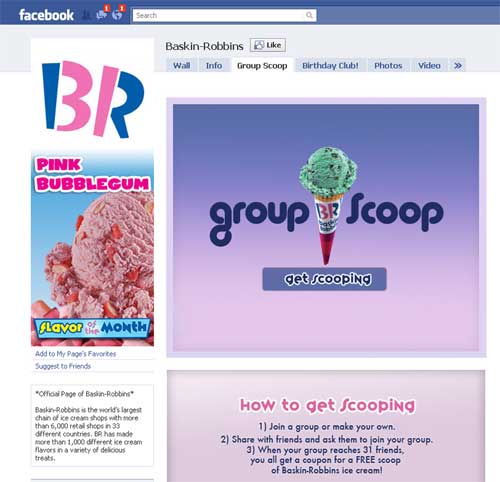 "Group Scoop is a fun way for our fans to enjoy a free scoop of Baskin-Robbins ice cream with their Facebook friends, even if they are miles apart," said David Nagel, Baskin-Robbins Director of Brand Excitement.
"Groups of 31 Facebook Fans will be able to enjoy a scoop of their favorite flavor, on us."
Group Scoop coupon recipients can print out their one-time coupon and present it at any participating Baskin-Robbins for their free scoop. They are not required to present their coupons together to take part in the promotion.