Today's big financial event will be Google's third quarter earnings report. Or perhaps Yahoo's wild ride due to acquisition rumors. But there's also news concerning Microsoft, as respected investment bank Barclays Capital has lowered its price target on the company's stock.
Robert Daniel wrote earlier, "In a Thursday report, analyst Israel Hernandez pared his target to $28 a share from $30, citing Wednesday reports from IDC and Gartner that third-quarter personal-computer unit sales were below expectations."
The decrease from $30 to $28 represents a drop of 6.7 percent, which obviously isn't good news for shareholders. That's the sort of gain some people hope to see in a whole year, depending on market conditions.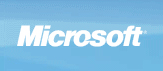 One small silver lining might be the fact that Hernandez didn't have anything negative to say about Microsoft's online division, at least. And since the division, which includes Bing, has traditionally been something of a weak spot, that could mean Bing's winning more supporters.
We'll find out for sure how Microsoft's doing in two weeks, anyway, since the company is supposed to deliver another earnings report on October 28th.
In anticipation of that, Daniel wrote, "Barclays is affirming its first-quarter estimates for Microsoft of 55 cents a share of earnings on revenue of $15.72 billion. A survey of analysts by FactSet Research puts the current analyst consensus estimates at 55 cents and $15.81 billion."