To be a Baidu shareholder must be a wonderful thing. The Chinese company's stock went up yet again today and was at $608.50 when the closing bell rang, making this the first time it's ever ended a trading day above $600.
Here are a couple other numbers sure to make other investors jealous: shares of Baidu actually gained 2.29 percent today, which represents a significant increase, not a symbolic tic. Also, since January 12th (the day Google announced its "new approach to China"), shares are up a whopping 51.91 percent.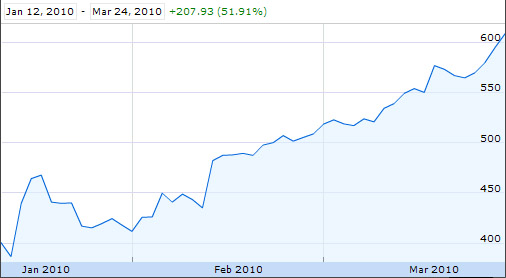 What's more, Goldman Sachs has taken the position that Baidu will do even better in the future, with the organization setting its price target at $675 (up from $575) yesterday.
Meanwhile, Google's experienced both ups and downs. Its stock performed well today, gaining 1.52 percent, but looking at its performance after January 12th, the search giant's down 7.28 percent. That'll be hard for execs to explain regardless of how much good the company's done.
A few more figures for comparison's sake: the Dow, Nasdaq, and S&P 500 lost 0.48 percent, 0.68 percent, and 0.55 percent today, respectively.