AT&T said people will be able to test the Kindle in its 2,200 U.S. stores before making a purchase. The Kindle is also available at Staples, Best Buy and Target.
"Amazon has without question pioneered the eReader space with Kindle, and it's exciting to not only connect this device through our network, but now offer it in our stores to readers around the country," said Glenn Lurie, president, emerging devices, AT&T.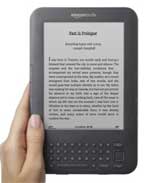 "As the first dedicated eReader offered in our stores, we are confident the Kindle will be an attractive addition to our in store connected devices lineup."
Kindle 3G, which connects over Wi-Fi as well as AT&T's mobile broadband network, wirelessly downloads books, magazines, newspapers, blogs and personal documents to a 6-inch, high-resolution electronic paper display.
"Customers tell us they love Kindle 3G because of its light weight, battery life of up to one month, and advanced paper e-ink display that works in direct sunlight," said Mike McKenna, Vice President, Amazon Kindle.
"Customers love being able to think of a book and be reading it in less than 60 seconds thanks to AT&T's wireless network."