The average amount of time people keep their cell phone has increased by 17 percent from 2009, according to a new study from J.D. Power and Associates.
People are keeping their mobile devices for an average of 20.5 months, which is the longest period off time since the study began in 1999, when the average was 17.3 months. The current level of ownership does differ by brand, with the highest ownership at an average of 27.8 months, and the lowest at 17.5 months.
"One possible reason for the significant increase in the length of mobile phone ownership is that more customers are delaying an upgrade purchase due to the general economic downturn, in which the expense of purchasing a new device could outweigh the added benefit of owning it," said Kirk Parsons, senior director of wireless services at J.D. Power and Associates.
"Typically, when upgrading to a new cell phone, there's the added expense of either subscribing to a more expensive service plan and/or incurring termination fees when switching service providers ."
For a fourth consecutive time, Apple ranks highest in customer satisfaction among manufacturers of smartphones with a score of 800 on a 1,000-point scale, and performs well in ease of operation, operating system, features and physical design. Motorola (791) and HTC (781) follow Apple in the rankings.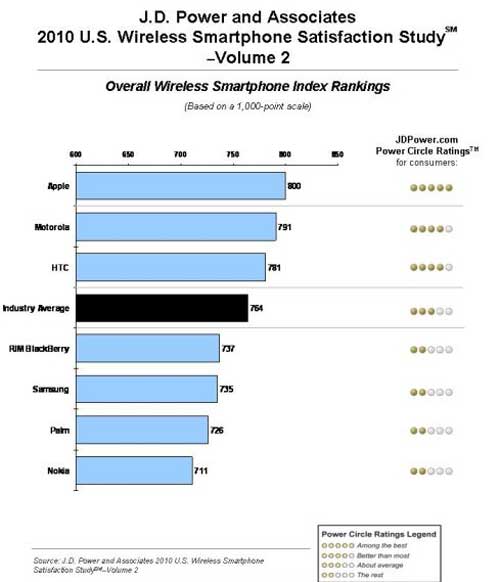 LG ranks highest in overall wireless customer satisfaction with traditional handsets for a fourth consecutive time with a score of 731. LG performs well in all four factors, particularly physical design, features and operation. Sanyo (712) and Samsung (709) follow LG in the rankings.
Other highlights of the study include:
The average price of a traditional wireless mobile phone has declined to $76 in 2010 from an average of $81 at the beginning of 2009. The decline is primarily due to discounts given by handset providers and wireless service carriers to incentivize sales. Currently, 42 percent of customers report having received a free mobile phone when subscribing to a wireless service.
Mobile applications continue to enhance the smartphone user experience. More than two-thirds of users say they download third-party games, while 54 percent say they download travel software, such as maps and weather applications. Forty-one percent say they download utility applications, while 36 percent say they download business-specific programs. This indicates that smartphone owners are continuing to integrate their device usage into both their business and personal lives.
The study also examines operating systems commonly used in wireless smartphones. Among operating systems measured, the Android operating platform (supported by Google); the Apple operating system used in iPhone devices; and Palm's Web OS platform perform particularly well.