Apple has begun its annual Worldwide Developers Conference, and Steve Jobs opened up the much-anticipated keynote address, and was joined by SVP WW Product Marketing Phil Schiller and VP, Mac OS X Software, Craig Federighi for some demos.
As expected, the company is discussing iOS 5, Mac OS X Lion and iCloud. First, they started with the stats of course.
Stats according to Apple
– Over 54 million Mac users around the world (and growing)
– PC market has shrunk 1%, while the Mac has grown 28%
– Mac has outgrown the industry every quarter for the last five years
– Mac sales are nearly 3/4 those of notebooks
Mac OS X Lion
After the initial round of stats, the Mac OS X Lion demo began. The new major release from Apple has over 250 new features including: multi-touch gestures (multi-touch trackpads are built into all Apple notebooks now), full screen applications, Mission Control (all spaces can be viewed at the top of the screen), Launchpad, Mac App Store built-in, a new version of Mail, Resume, Auto Save, AirDrop, Versions, File Vault, and Mac OS X Lion Server.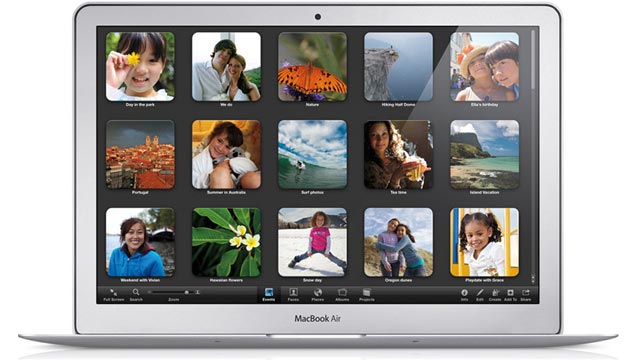 With the Resume feature, Apps now begin where you left off if you exit them and go back later – that goes for highlighted text, window sizing, and everything. Apps also auto-save, so theoretically, you shouldn't lose anything.
For months, the OS update has been described as bringing some of the best ideas of the iPad to the mac. Most of the features were revealed in the developer preview back in February.
"Mission Control is a powerful, entirely new feature that unifies Exposé, Dashboard, Spaces, and full screen apps to give you a bird's eye view of every app and window running on your Mac," Apple said. "With a simple swipe, your desktop zooms out to display your open windows grouped by app, thumbnails of your full screen apps as well as your Dashboard, and allows you to instantly navigate anywhere with a click."
"Launchpad makes it easier than ever to find and launch any app," the company added. "With a single click, Launchpad displays all your Mac apps in a stunning full screen layout where you can launch, re-order or organize apps into folders. You can also arrange apps into multiple pages and swipe between them."
The interface of the new version of Mail is inspired by the iPad. It features a Conversations feature, which automatically groups related messages into one meline, a more powerful search feature=, and support for Microsoft Exchange 2010.
AirDrop simply lets you copy files wirelessly from one Mac to another without any set-up. Versions automatically saves successive versions of your document as you create it, and lets you browse edit, and revert to previous versions.
FileVault provides full disk encryption for local and external drives, and the ability to wipe data from your Mac instantaneously. Mac OS X Lion Server adds support for managing Mac OS X Lion, iPhone, iPad and iPod touch devices.
Lion will only be available for download through the Mac App Store. It will be available in July.
As Jobs mentioned at the beginning of the keynote, they'll also be talking about iOS and some "interesting" new cloud-related stuff (iCloud). More to come.