A week ago today Apple's iCloud was unveiled at their Worldwide Developers Conference which, according to Steve Jobs, will serve as the "center of your digital life." Before it was even revealed at WWDC, the cloud service had already drawn an antitrust complaint. And now you can add a trademark lawsuit to the list.
iCloud Communications is a VoIP company based in Phoenix, AZ. According to their website, they have provided local and long-distance telephone service since 1985. In their court filing, however, they list 2005 as their date of origin –
iCloud Communications was formed in 2005 and is a provider of, among other "cloud computing" products and services, computer telephony (telecommunication)hardware and software for the electronic transmission of email, text, audio, video, photos,information, data, video conferencing, virtual video conferencing and other content via the internet and wireless data networks.
iCloud Communication says in their suit that they have spent "tens of thousands" of dollars annually on advertising to promote the marks iCloud, and iCloud Communication. They allege that by launching their cloud services with the same name and blitzing the media with advertising and coverage of their iCloud, Apple has done damage to iCloud Communications. They say that the "general public have quickly come to associate the mark 'iCloud' with Apple, rather than iCloud Communications.
They state that Apple's continued use of "iCloud" has and will continue to result in irreparable harm –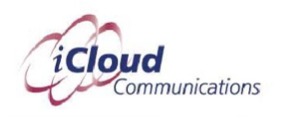 Apple's announcement of and the launch of its advertising campaign for its iCloud service have so thoroughly swamped the reputation of iCloud Communications and the goodwill it had built up over the years in the iCloud Marks that is likely to cause—and has actually cause—confusion among consumers of cloud computing services and members of the general public as to the source of the parties' goods and services. In fact, iCloud Communications has received numerous inquiries from both existing and prospective customers regarding whether it is now owned or affiliated with Apple

Additionally, it is likely that consumers will be given the misimpression that Apple, not iCloud Communications, is the source of the services offered under the iCloud Marks and/or that iCloud Communications is an unauthorized user of and is infringing upon Apple's trademark rights. Such misimpressions will damage iCloud Communications' reputation.

The loss of and damage to the goodwill in the iCloud Marks, the damage to iCloud Communication's reputation and confusion among consumers is likely to continue—and, in fact, intensify—unless Apple is enjoined from its use of the mark "iCloud."
iCloud Communications doesn't have a registered trademark for the term "iCloud" filed with the U.S. Patent and Trademark Office. If you search the USPTO database, you'll find that 11 of the 13 claims to the term "iCloud" are in fact filed by Apple. One is filed by an individual and the other by a Swedish corporation.
The suit addresses this Swedish company, saying that the company's continued use of iCloud in their services once Apple purchased their trademark invalidates it altogether –
Apple also went through the motions of purchasing a U. S. trademark registration for "iCloud," Reg. No. 3,744,821, from a Swedish consulting company whose use of the mark post-dates that of iCloud Communications by two years. Moreover, upon information and belief, the Swedish company has continued offering the same services to the same customers under a similar mark. Thus, Apple's acquisition of the mark iCloud appears to have been "in gross" and is, therefore, invalid
iCloud Communications claims common law rights to the trademark within the state of Arizona. They maintain that since they've established the name within their geographic area, they lay claim to its use. They say that Apple is infringing upon their established business.
This isn't the first suit that has sprung up out due to the names of Apple products, and it will probably not be the last. What do you think will happen? Will Apple settle?