In well-that-probably-means-something news, Apple has apparently grabbed famed audio engineer and inventor Tomlinson Holman to head audio at the company.
"Tech Pundit" Leo Laporte tweeted this earlier today:
@leolaporte
Leo LaporteI have it on good authority that Tomlinson Holman (of THX fame) is joining Apple to run audio. Major upgrade.

6 hours ago via Twitter for Mac · powered by @socialditto
Holman is well known as the man behind Lucasfilm's THX sound system.  A pioneer is audio technology, he developed the world's first 10.2 surround sound system.  Holman spent 15 years working at Lucasfilm as the corporate technical director and currently teaches film sound at the University of Southern California.  He even won an Oscar for technical achievement in 2002.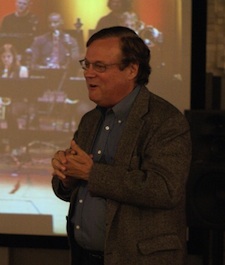 Now, if this is indeed true, it indicates that Apple is serious about upgrading the sound capabilities on their devices. iPhones could definitely stand to get an audio makeover, and don't even get me started on the built-in speakers on the macbook.
Most owners know that the sound from iOS mobile devices is less than stellar. But many have complained the the iPad doesn't contain enough oomph from its internal speakers either. Improved audio quality from these devices could force a pessimist like me to actually want to watch television or a film on them.
And maybe turn the sound on during Angry Birds. Well, actually no. Nothing could make we want to do that.
It has also been reported that Apple has been in the process of trying to improve the quality of files in their iTunes store.  So this acquisition could have something to do with that.
Just yesterday, iMac desktop got a refresh with a bunch of new goodies like quad-core processors and HD FaceTime cameras.
Hat tip to GigaOm