AOL has announced it Q4 earnings, which show how the company performed during its final days as part of Time Warner, as well as the beginning of its transition to the current incarnation.
"We have made significant progress in support of the long-term vision we see in the future of AOL, but today's results continue to reflect the need for our focus and execution on the work required in the turnaround of the Company," said Chairman and CEO Tim Armstrong. "2009 marked the closing of an important chapter in AOL's history and the opening of a new chapter that we are passionately pursuing. We have a clearly defined strategy, and we enter 2010 incredibly focused on day-to-day execution."
Here's the summary: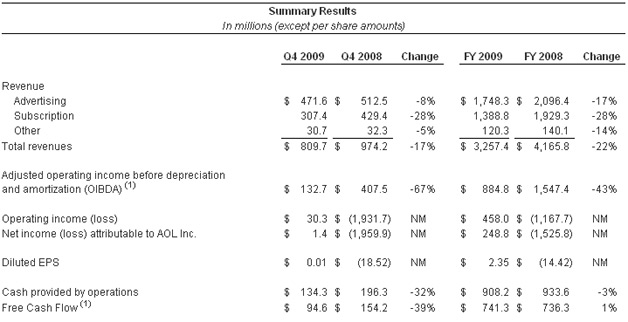 AOL says Q4 revenue declines reflect continued attrition in the subscriber base, leading to declines in subscription and search & contextual revenue. While AOL Properties global display advertising revenue declined 3%, AOL Properties domestic display advertising revenue grew 1%, its first quarter of year-over-year growth in eight quarters. Other noteworthy items as highlighted by the company include:
– Q4 costs of revenues declined at a lower rate than revenue reflecting a 12% increase in traffic acquisition costs (TAC) primarily associated with payments for shipments related to a significant product distribution arrangement. As of December 31, 2009, new shipments under this contract ceased.

– Full-year and Q4 2009 Adjusted OIBDA, operating income and pre-tax income include $190 million and $107 million, respectively, in restructuring costs and certain other items fully discussed on page 8 of this press release.

– We anticipate our restructuring efforts will reduce ongoing operating expenses, excluding TAC and net of incremental operating investments in the business, by approximately $150 million in 2010.

– Full-year and Q4 2008 operating loss and net loss reflect a $2.2 billion non-cash goodwill impairment charge.

– Full-year cash provided by operations declined, driven by Adjusted OIBDA declines. The cash flow impact of these declines was partially offset by the timing of working capital changes, including lower employee bonus payments in 2009. Full-year 2009 Free Cash Flow grew slightly, reflecting reduced capital expenditures in 2009. Q4 2009 cash provided by operations and Free Cash Flow declined due to the settlement of a legal matter and a Value Added Tax matter in France.

– AOL had $147.0 million of cash-on-hand as of December 31, 2009, and has not borrowed under the terms of our revolving credit facility, as of February 2, 2010.
Further details and charts can be found here in the release. It will really be interesting to see the report a year from now after AOL has settled into its new role on the web.

Related Articles:
> AOL Acquires Video Creation/Distribution Company StudioNow
> AOL Top Ad Network In December