AOL has launched a new smartphone portal at m.aol.com and 2 new Android apps. In fact, AOL specifically says that it's increasing its focus on Android.
The smartphone portal is for HTML5-supporting smartphones, providing a touch-driven interface that allows for easy scrolling through articles and content, as well as location-based services for weather, movies, traffic, etc. There is also an app directory for users to find mobile apps, and it supports video content.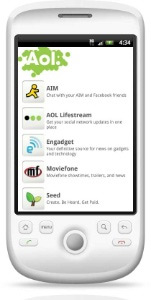 The focus on Android is interesting, though. "Android has emerged as a top-tier smartphone platform," says David Temkin, the company's new Vice President of Mobile. "So, while we'll continue to focus on development for multiple mobile platforms, this time, we are releasing an early version of an app on Android first — the AOL app.
"We're also releasing DailyFinance, one of the most popular apps on other platforms, on Android," he adds, pointing to AOL's growing library of smartphone-optimized sites and apps as the beginning of a new focus. "Today's smartphones offer a completely different experience from the previous generation of WAP-based sites, and AOL will be taking full advantage of the possibilities these new devices can offer, both on the mobile Web and in apps."
The AOL app provides content from some of AOL's most popular sites like PopEater, Engadget and FanHouse, as well as access to MapQuest, AOL Mail, and the AOL app list.
The DailyFinance app lets users receive real-time stock quotes and financial news. Users can track up to 25 portfolios.