Even if Google prefers to name different versions of Android after tasty desserts, the mobile operating system is still doing a good imitation of a simple snowball rolling downhill. A new report from Gartner indicates Android's even grown to the point that it's beaten Windows Mobile in terms of sales on a worldwide basis.
Gartner pegged Android's sales at 1.6 percent of the smartphone market for the first quarter of 2009. For the first quarter of 2010, that figure was 9.6 percent, instead, which works out to an increase of 600 percent in the space of one year.
Meanwhile, Windows Mobile's sales decreased from 10.2 percent to 6.8 percent of the total, allowing Android to take fourth place. And the iPhone OS's share of sales didn't increase by quite as much, bringing Android somewhat closer to third.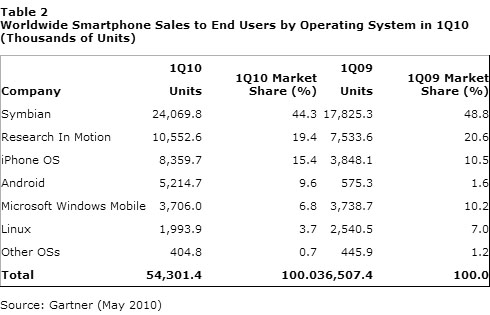 Apple and Android are, despite their third- and fourth-place finishes, arguably the winners here, too. Gartner observed in a statement, "Android and Apple were the only two OSs vendors among the top five to increase market share year-on-year. Symbian remained in the No. 1 position but continued to lose as Nokia remains weak in the high-end portfolio."
Android and the iPhone OS are still a long way from the top, though, meaning Google may have to work its way through a lot more desserts before displacing another competitor.