Myxer, which is behind an eponymous mobile entertainment destination, issued the first of what's supposed to become a monthly report this week, and its stats favor Android. Indeed, the Android operating system apparently showed up the iPhone in several respects.
According to the report (which is called BoomBox), Android pulled far ahead of the iPhone in terms of traffic this year. "Visits from users on the Android operating system grew almost 350% from December 2008 to December 2009, compared to iPhone visits which grew 170%," it stated.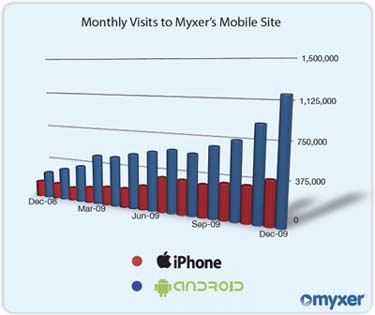 Another way in which Android proved popular relates to ringtones, wallpapers, videos, games, and applications. In short, Android users seemed significantly more interested in them. The report claimed, "Myxer delivered seven times more total downloads to Android devices than iPhone devices in Q4 2009."
Apple fans will no doubt argue that Myxer's visitors aren't typical; given how many more iPhones there are in the world than Android devices, these ratios couldn't hold up on a large scale.
Still, whatever ifs, ands, and buts can be attached to Myxer's findings, it'd be difficult to interpret these numbers as anything other than good news for Android.
Related Articles:
> Motorola Slates 20-30 Android Phones For 2010 Release
> Google Delays Launch Of Android Phones In China