Sometime this month, Googlers who work on Android probably earned the right to pop the corks on a few bottles of champagne. New stats from AdMob (which unfortunately only run through February) indicate that Android was poised to pass the iPhone in terms of U.S. market share.
AdMob found that the iPhone had a slight edge at the end of February: 44 percent versus 42 percent. But at the rate Android's market share has been increasing (and the iPhone's market share has been decreasing), it's likely to have taken the lead by now.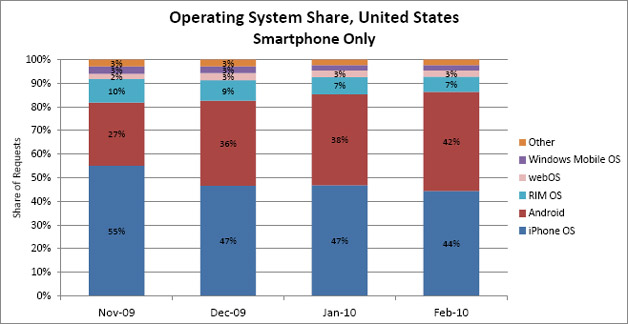 This would of course represent a major victory for Google. It'd raise big questions about how much the scales will continue to tip, too – how low will the iPhone's U.S. market share go before things stabilize?
The iPhone is still pretty dominant on a worldwide basis, though. AdMob determined that its market share in that respect is 50 percent, while Android's is 24 percent. So while Android's done well globally – it was at just 16 percent a year ago – Google has some work ahead of it overseas.
Maybe that just means Googlers can look forward to having a second day of champagne and celebrations at some point in the future.