A new comScore report concerning the state of the mobile market is out, and it should surprise exactly no one that Android's market share continues to rise. The rate of Android's growth is sure to displease some Apple fans, however, as it looks like Android may have eclipsed iOS in terms of smartphone subscribers.
Google's share of the market rose from 21.4 percent in September to 23.5 percent in October (the most recent month for which comScore has stats). Apple's share, meanwhile, only edged upwards from 24.3 percent to 24.6 percent. So it's quite possible Google drew even and pulled ahead in November.
That guess is supported by longer-term data, too. comScore compared how the top mobile operating systems performed between July and September, and only Google came out looking strong.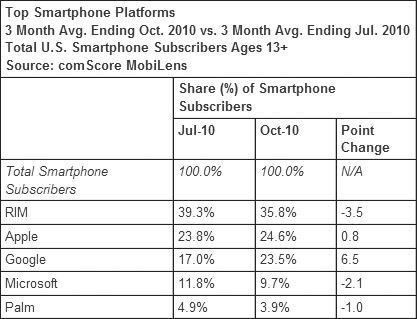 Indeed, even the people at RIM, who still have a decent lead overall, should be worried considering how their OS lost a full 10.0 points over Google's in that timespan.
Still, there are enough users to go around in at least one sense. comScore noted in a statement, "Despite losing share to Android, most smartphone platforms continue to gain subscribers as the smartphone market overall continues to grow."
comScore determined that the top device manufacturer in October was Samsung, by the way.