AMD announced today that President, CEO, and director Dirk Meyer has stepped down from these positions. The company's Board has appointed SVP and CFO Thomas Seifert as interim CEO while they search for Meyer's replacement.
"Dirk became CEO during difficult times," said Bruce Claflin, Chairman of the Board. "He successfully stabilized AMD while simultaneously concluding strategic initiatives including the launch of GLOBALFOUNDRIES, the successful settlement of our litigation with Intel and delivering Fusion APUs to the market."
"However, the Board believes we have the opportunity to create increased shareholder value over time," he added. "This will require the company to have significant growth, establish market leadership and generate superior financial returns. We believe a change in leadership at this time will accelerate the company's ability to accomplish these objectives."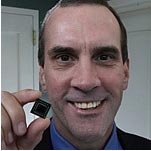 The company has formed a CEO Search Committee to find a permanent replacement for Meyer. Seifert will continue to act as CFO, and interestingly has asked not to be considered for the permanent CEO position. Claflin has assumed the role of Executive Chairman of the Board and assumes additional responsibilities during the transition period.
"AMD enters 2011 with considerable product and financial momentum. Our roadmap for the year, including our 'Llano' APU and 32nm 'Bulldozer' based processors remain on track," said Seifert. "I believe we have significant opportunities to cement our leadership positions in several key market segments based on the strength of our upcoming products."
AMD also announced that its fourth quarter revenue increased 2% to nearly $1.65 billion. This is from the company's preliminary results. The final results will come on January 20.